In the book Les Génies du Chocolat, Eri Ikezi wants to show why France is the motherland of chocolate excellence. Throughout 3 volumes, and 685 pages, she tells how the French have explored all aspects of cocoa to create chocolates filled with perfumes and textures with technique, sensitivity, and spirit of innovation in the same way that their gastronomy has been recognized as an intangible heritage of mankind by Unesco.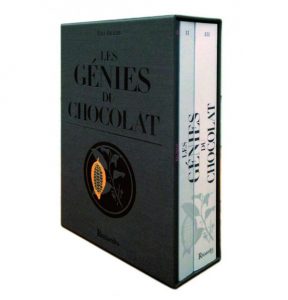 The first volume begins with a preface by  Pierre Hermé and is devoted entirely to the history of chocolate in France. Enriched with interviews of owners and heirs of large historical houses such as Debauve et Gallais, Schaal or Cémois, it is noted that the country was the forerunner in the manufacturing of chocolate bonbons until the beginning of the 19th century. An account that ends in 1970 when a new profession arises: the chocolate makers-confectioners.
The second volume reveals the complexities of cocoa at both organoleptic and scientific levels. In addition, it tells how the French have always been at the forefront of all the trends that have shaped the world of chocolate today: working on pure origins, supplying small producers, increasing cocoa percentage, personalization of coverages for professional use…
In the third and last book, the world of chocolate-confectionery is evoked from a more intimate point of view through all its actors,  MOFS like Fabrice Gillotte, great founders such as Gaston Lenôtre, Robert Linxe, and Michel Chaudun, whose talents arose in the 1960s when they benefited from the knowledge acquired in Switzerland at a time when they were at the top of the art of bonbon du chocolat. Here they reveal their personalities, their passions, and especially their love for cocoa.