After months of research and teamwork, Ladurée just presented its first two vegan macarons: 70% pure chocolate from Peru and coconut caramel. The wide range of macarons of the mythical Parisian emblem thus adds its first two creations in which this product does not contain butter or cream or egg whites. The precedent for taking this step is the vegan restaurant that its owner, David Holder, has in Los Angeles.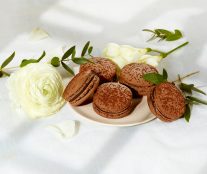 In the 70% pure Peru chocolate macaron, with slightly smoky and woody notes, the French maison has reinvented the ganache with a mixture of millet milk, almonds, and hazelnuts. To make the coconut caramel, which is characterized by round and childlike flavors, a butter composed of coconut oil, sunflower oil, and soy milk, emulsified and sufficiently rich in fat to harden as real butter, had to be made.

With this launch, Ladurée, founded in 1862, maintains its philosophy of accompanying changes in tastes and behaviors in each era. Currently one of the great global challenges is to eat better, eat less, and eat consciously, preserving the planet's resources. For this reason, this pastry temple has taken on the motto "think green", and has faced the challenge of designing these macarons without resorting to fundamental ingredients in this preparation, such as egg whites or butter.