Emmanuel Hamon, dedicated for years to his role as a trainer and consultant around the world, has turned his professional career around by opening French Touch in Kiev, a small online boutique of craft sweets and pastries.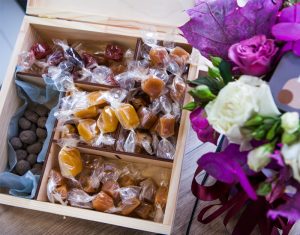 The decision, made conscientiously, began to be forged a year ago in October 2019 when "the revolution in Lebanon canceled the opening of the Academy of Baking Arts (ABA) and we decided to move to Dubai until the situation improved a little, but everything stopped with the coronavirus. So I took the reins to focus the Banos Puratos group on the entire Middle East while the virus calmed down, but seeing that the situation became critical, I decided in May to stop because apart from the health crisis, the economic state in Lebanon was becoming too big of a problem ". The next step was to wait for airports to open in July to travel to Ukraine, where the French chef lived for five years. Once in Kiev, Hamon acknowledges that he received many offers to teach online master classes, but rejected them because "online is not the same as giving face-to-face classes. When making food, I don't see the point. You can't taste it, smell it, or touch it ". This, and adding the fact that travel is going to be increasingly difficult with the pandemic, he made a clear decision: to open a small shop with his wife "where we could go back to basics, do everything ourselves, from the praline to the gianduja ".
In French Touch, there is a chocolate section with bars, chocolates, travel cakes, spreads, as well as a wide range of candies, among which we find his famous salted butter caramel, a collection of more original products with marmalade and confits with combinations such as lemon / basil, apple / green olive, and confectionery (nougat, marshmallow, fruit paste. "At the moment, I do not want to offer pastry gâteaux because my goal is focused on online sales, but every day we offer cakes, pastries, and three types of travel cakes that change weekly because people ask us to." In his new facility, he has a workshop with the capacity for teaching courses for groups of 6 to 8 people, a possibility that he does not rule out in the future.