Nature Inspiration is the title of the ebook that pastry chef Emmanuel Hamon has just presented to his followers on social media. A digital book which is in English and totally free containing 20 creations that the chef has created in recent years in entremet and individual cake formats.

The book includes the innovative and personal style of the chef, as well as being exhaustive in each and every one of the formulations and preparation processes. Most of these creations have been part of master classes and demonstrations for brands for which the Breton chef has recently worked. He has decided to present this digital book now, motivated by giving a second life to these cakes, and also as a way of thanking his followers on social media.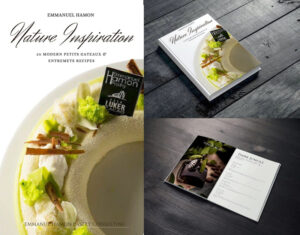 With this, Emmanuel Hamon has also entered the publishing sector, using this book as a test-bed for his second most ambitious book to be presented in the coming months. For this future book, the chef is working hard on a new formulation that will serve to adapt recipes for vegans, to lighten the sweetness and fat of classic creations, to extend the life of the products and, ultimately, to respond to many of the concerns raised by professionals in the many courses he teaches around the world.

Emmanuel Hamon is carrying out increasingly intense trainings, not only in Ukraine, his current country of residence, but also in other countries in Eastern Europe. He is also collaborating with different ingredient and equipment companies for professional in their corresponding R&D departments. This is his current day-to-day life, which he combines with the development of this new and ambitious book.
Get a copy of the ebook Nature Inspiration