[Update 12/15/2020] Due to the continuous cancellation of live events and in order to allow interested parties to participate in the event with the necessary preparation time, the organization of iba.CONNECTING EXPERTS announces a change of dates, from February to 15-17 March 2021.
---
Due to the restrictions imposed by the coronavirus and the lack of exchange within the industry at this time, Iba will launch iba.CONNECTING EXPERTS in February 2021. A virtual initiative with which it intends to facilitate commercial opportunities at a global level and that will serve as a preview of the next edition of the fair, which will be held in person from October 24 to 28 in Munich.

At iba.CONNECTING EXPERTS, the team, led by project director Cathleen Kabashi, will bring together global experts from February 1-3 with a very clear concept: networking and new contacts. This new format, which will serve as a global meeting point, will be aimed mainly at the process and packaging technology market segment. Exhibitors will present their products virtually and will be able to expand their commercial relationships, while attendees will have the possibility of attending specialized talks and accessing quality content.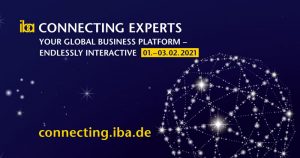 This action shows, according to Michael Wippler, President of the Central Association of the German Bakery Trade, that "Iba is constantly evolving in its role as a market leader and trade fair for genuine innovations, new products, and premieres. We are always one step ahead, and we are looking forward to yet another innovation this year: a totally new format! This exchange is to reaffirm our role as pioneers and to send an important message to the industry."