From January 26 to 30, the 19th edition of Sirha will be held in Lyon, which will have an additional 10,000 m2 room and capacity for 3,000 exhibitors and brands, so that the planned 200,000 professional visitors will enjoy a wider and more varied offer than in previous years.
The evolution of the fair is very positive in the opinion of its general director, Marie-Odile Fondeur, who explains that a quarter of the exhibitors in 2019 will be international and ensures that "over the years, Sirha has established itself as a one-of-a-kind fair in the gastronomic and hospitality sector, and it has become a great food event for professionals from all over the world. Our strength is to have created a BtoB event with an extensive offer in a pleasant environment ".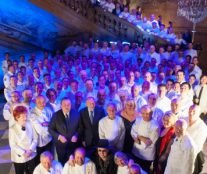 One of the featured events is the World Cuisine Summit, which will gather prestigious chefs, representatives of international organizations, political figures, and opinion leaders with the aim of reviewing the interests of the industry, contributing to the growth of the sector, and promoting responsible and sustainable growth for professionals.
In terms of competitions, Sirha will be the framework once again of two major championships. On the one hand, the Coupe du Monde de la Pâtisserie, in which 63 candidates from 21 countries will compete, with the proposed theme "Nature, flora and fauna", and for the first time will require the contestants to create a completely vegan dessert according to the latest consumer trends. On the other hand, the Bocuse d'Or will bring together 24 participants representing 24 countries and will pay tribute to two great chefs who passed away last year and who contributed significantly to promoting the event: Paul Bocuse and Joël Robuchon.
Among the many activities that the fair will host, is also the awards ceremony for the Awards for Innovation, the Village des métiers de bouche space, where different craft trades will be presented, and Cuisines en scène, the stage of numerous National and international competitions.