The Bakery Masters, le Mondial des Arts Sucrés and the French Schools Cup will make next year's Europain (Paris, 8th to 12th March, 2014) an uninterrupted champsionship that will be valued by the top professionals throughout the world, in both baking and pâtisserie.
24 candidates representing 18 different countries will compete against each other in the categories of bread, Viennese pastry and artistic creation for the title of Master Baker 2014. The best contestants from the Louis Lesaffre Cup and the Bakery World Cup were selected to compete individually in this competition.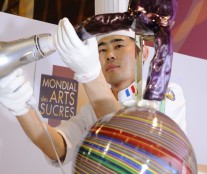 Le Mondial Des Arts Sucrés, organised by DGF and EKIP, will bring together 16 mixed, man-woman teams who will have 20 hours to create one pastillage showpiece, one sugar showpiece, one chocolate showpiece, a tartlet, a small cake, three bonbons and a dessert plate with Grand Marnier liquor. The French Schools Cup will bring together teams of three young people accompanied by two trainers to compete in two award categories – "Hope" and "Excellence".
All the above will grace a Contest that aspires to equal the figures of 2012, with 68,000 square meters of contracted land, 770 exhibitors and 82,690 visitors. The Cube, the space provided especially to stage these competitions, will also host the Bocuse d'Or France and the café competions, which will coincidentally take place at the same time as Europain in the hospitatliy fair, Success Food.