The new distribution plan of the 12 pavilions of Iba 2021, announced at the beginning of the year, once again undergo modifications due to changes in the Fairground Munich fair calendar. Specifically, innovations in production technology will be located in pavilions A3, A4, A5, B4, B5, and B6, packaging technology in pavilion A6 and solutions for artisan bakeries in pavilions B3 and C3, while pavilions B4 and C4 will become the platform for raw materials and ingredients.

To access Iba, there will be two entrances, a direct underground connection and car parks very close to both doors. Although the production and packaging technology departments will be located in the immediate vicinity of the east entrance, the sectors of artisan bakeries, raw materials, and ingredients for baking can be reached through the north entrance. This ensures easier navigation and shorter routes for everyone involved in the trade fair. "Thanks to the optimal local infrastructure and keeping in mind the prevailing regulations at the time, Iba will be a safe platform for networking and doing business for all sectors of the baking industry," says Cathleen Kabashi, Iba exhibition director.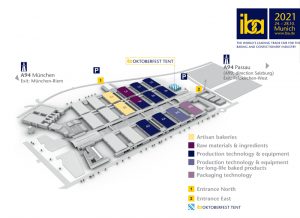 Despite the health crisis, the 25th edition of the Salon maintains its dates, scheduled for October 24-28, 2021, at a time when the fair world is experiencing significant turmoil.Naturally, that is why "in addition to all iba-specific topics, we are naturally also keeping current developments in general Corona-related regulations for trade fairs in view at all times and will adjust our planning in line with the situation. The Fairground Munich offers the best conditions for designing the perfect trade fair platform, even under the recently amended framework.", adds Kabashi.