Sigep needs no introduction – it is the reference exhibition for the Ice Cream and Pastry sectors in Italy, and more and more of other places in Europe and the world. One of the secrets of its success is, undoubtedly, its ambitious program of activities and competitions, which have become really popular. Its next edition will be held in Rimini, next January 17th to 21st.
As for the pastry section, the main event will be the Junior World Pastry Championship, which will gather ten different teams again, coming from all over the world and among which outstanding powers of the sweet industry such as France, USA, Japan, Singapore or Italy itself can be found. For this edition, the theme of the competition is 'Italian Food Style'. AMPI, Relais Dessert, Conpait are the sponsors alongside the firms Debic, Besozzi Oro and Valrhona. They also have the collaboration of CASTAlimenti School.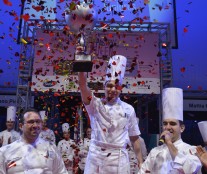 The championships will be held in the Pastry Arena, and those present will be able to enjoy the national preliminary competition for next edition's Italian Junior Championship and Pastry Queen Championship, the international pastry competition for women. The artistic sugar competition Star of Sugar, dedicated to Ferrari, will also be of special interest, as well as the Italian qualifying round for the World Chocolate Masters, with an added value after Davide Comaschi won the latest great final competition.
The pastry championships do not end here… The Festival of Nations will enter SIGEP to focus on the 'Masters of Confectionery' and the 'Cake Design' with South Korea, Russia, Peru, Brazil, Colombia and Philippines. The Coppa Italia della Pasticceria Artistica (Italian Artistic Pastry Cup) is also one of the events taking place – organized by Glamour Italian Cakes, this fondant-based event will not fail to amuse the audience.
And as we said before, the ice cream sector is indeed the real protagonist of this exhibition. In addition, alongside pastry, it is especially worth highlighting the activities devoted to the bread industry solely, which will have their own simultaneous exhibition, the AB Tech Expo, together with the restaurant and catering-oriented activities held in Rhex.