In this edition of the impressive Italian fair Sigep, the birth of a new and spectacular world championship for pastry chefs 23 years old and younger has been confirmed. We're talking about the Junior Patisserie World Championship, which has held its first edition and was a great success thanks to the work done by figures as important as Roberto Rinaldini and Iginio Massari, and thanks also to the support given by the Relais Dessert association and patisserie greats such as Fabrizio Galla, Paco Torreblanca, Jean Paul Bardet, Eliseo Tonti, and Arno Sturny.
The championship counted on the participation of ten teams and it promises to go further, intent on making the professionals who will be talked about in the future known.
Firstly, the honor of premiering the first prize in this competition is Italy, which presented a team formed by Antonio Daloiso and Andrea Borgognoni and captained by Gianluca Fusto. The victory was based on the consistently noticeable tasting.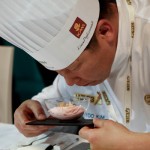 In fact, Italy also won the award for the best cake and the best bonbons.
The podium was completed by the South Korean pair (Na Rae Kim and Ui Hyeog Jeong) and the French pair (Jayce Baudry and Martin Jarroux). The rest of the participating teams represented the United States, Singapore, Morocco, Brazil, Switzerland, Mexico, and South Africa.
May this new competition be welcome!