Photos by Noriko Kawase
In 2020, Yusuke Aoki returned to Japan for the first time in ten years to take up the position of Executive Pastry Chef at the Four Seasons Hotel at Tokyo Otemachi. Since his leaving Tokyo, he has worked in Canada, France, Doha, and Bali, all with different cultures and lifestyles. Once back in his home country, he faced the unseen obstacle, COVID-19. Although business around the world has slowed, and unlike his anxiety, the lounge of this newly opened hotel has been crowded for afternoon tea, which kept him and his team busy. Along with afternoon tea, Aoki's "pa-fe," or parfait, also went quickly viral. In so good.. 28 we interviewed him.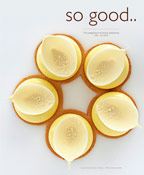 Why do you think afternoon tea and parfaits at the hotel hit the mark in on and offline media?
This is a small hotel occupying only seven floors of an office building. We don't have any pastry boutique, and we can accommodate only one wedding reception per day. For this reason, we have decided to take much more time and effort to make the afternoon tea menu and wedding desserts restaurant qualities. I try to post our cakes and desserts on Instagram as much as possible to attract more attention to our cakes and desserts. Thanks to this, we have more couples to choose our hotel for their wedding receptions.
Parfaits are very popular in Japan right now. When I was still in Japan 10 years ago, they were not as popular as now. They have long sat in Japan's café culture, but it was nothing but a simple dessert like a sundae, with a layer of fruit and ice cream on corn flakes. Still, nowadays, it is common in cafes, restaurants, patisseries, etc., to have a luxurious parfait for over 2000 yen. When I want to make a parfait myself, I want to use my own techniques to create a diverse, complex, multilayered parfait that only a pastry chef could accomplish. When it comes to fruits, I want to have compote, jam or sauce, and fresh one. I replace the cornflakes with crispy crumbles or syrupy baba au rum. And the garnish is a token of my experience and accumulated technique. Tuiles made of fruit purées or meringues shaped in various ways can entertain the guests' five senses.
As for the afternoon tea menu, it changes every two months along with seasonal fruits. In addition to strawberries, which Japanese people love most, we use mango and beautiful green muscats, called 'Shine Muscat'. And even melon. Using the fruit was challenging because it is more like a vegetable and the flavor is too green to be part of sophisticated desserts and cakes. After some creative thinking, I was able to find out ways to please our customers with melon-theme afternoon tea.
"I wanted to use my own techniques to create a diverse, complex, multilayered parfait that only a pastry chef could accomplish"
Recently, your éclair-on-top parfait has been making a splash on Instagram. Where does the idea come from?
I thought it could be great to place a piece of sablé on the glass to make room for one more treat for customers. Customers may think they get two birds with one stone. They can separately enjoy the éclair on top and the fruit and ice cream on the bottom. It looks more impactful and Instagrammable, too. We serve cherry parfait now and it is topped with cherry jelly-stuffed milk chocolate mousse in the shape of a cherry.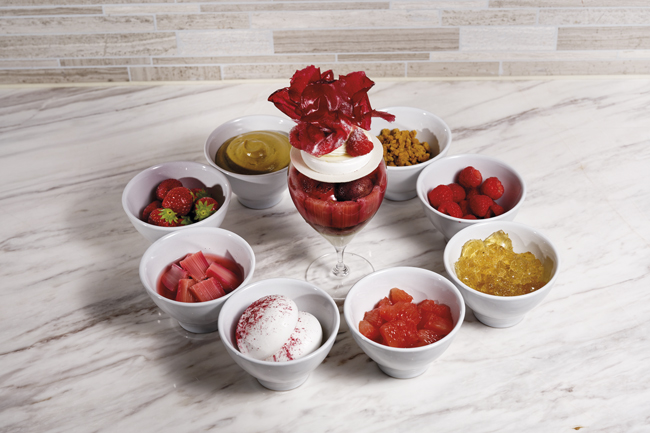 Are there any tips for making perfect parfaits in this age of Instagram?
I try to put cross-sections of the fruits on the inside of the glass so that the texture of the fruit can be seen. For Rhubarb Pistachio Parfait, I made sure that the fibers of the rhubarb compote were visible. The same technique is used in strawberry, shine muscat and cherry parfaits as these fruits also have beautiful cross-sections when cut in half, which I think look Instagrammable. I also pay the most attention to the parfait, cake, and dessert design when viewing directly above.
"Desserts with a series of surprises can make the time at our hotel unforgettable"
The Chocolate Caramel Citrus Tart was designed to look like the sun, don't you think so?
The Chocolate Caramel Citrus Tart is so unique that it uses a mold for brioche. I always want to create something original and unique. To have a crisp edge of the brioche mold's wavy rim design in the tart crust, I covered the outside of the mold instead of lining the inside with dough so that it would not shrink during baking. Since we do not have a boutique where customers can take our cakes home, we want to offer them unusual and exciting experiences in the restaurant. I thought out a surprising composition for the Exotic Mojito: when you break the thin sablé over a small bowl of white chocolate with a spoon, the mojito sorbet inside reveals. Desserts with a series of surprises can make the time at our hotel unforgettable.
Using tropical fruits, the Exotic Mojito reminds me of your desserts in Bali, Indonesia.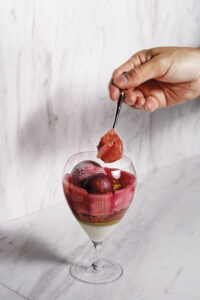 Mango, passion fruit, pineapple, and coconut are fruits that are easily available in Bali and are sought after by guests from all over the world. In addition to the fruits, I used local herbs such as kaffir lime to enhance the exotic tastes and flavors. In reminiscing of the experience in Bali, I thought I would make something with tropical fruits and modernize (in a modern way for Japanese customers) by adding a tangy ginger flavor and cocktail inspired sorbet with mint and rum to create a dessert that is not only sweet but has a kick of alcohol. Although it depends on the season, I try to use locally sourced mangoes and pineapples.
Do you ever think, 'I wish I had those ingredients from that country,' after returning to your home country?
No. During my 10 years overseas, it often happened that the ingredients and tools I wanted didn't exist in these countries, so I learned to be creative with what I could get there. In Japan, we have all kinds of convenient tools, so when I went to Spain for a workshop the other day, I brought a lot of things, but I ultimately realized I didn't need that much. I used to manage any problems I encountered wherever I went, but now I am afraid of losing touch. I have to be careful.
There are many high-quality ingredients in Japan, but there are also those ingredients with which you can express yourself by not using them. One of them is fresh cream. The shortcake is a typical Japanese cake, a sponge cake filled with whipped cream and strawberries and coated with whipped cream. The locally produced fresh cream here is very light and very tasty. Since such light cream is not available in other countries, you will rarely find cakes that are simply filled and coated with whipped cream like Japanese shortcakes.
I don't use whipped cream in my cakes. Instead, I use whipped white chocolate ganache. It is very versatile. It can be flavored by adding citrus juice or zest, which would add a sharpness to the rich cream. So not using whipped cream is one of the things that makes it unique to me. I am sorry for my staff. They don't get to learn how to coat cakes beautifully with whipped cream, which is one of the essential techniques for pastry chefs working in Japan as long as they work for me!
Discover these recipes by Yusuke Aoki in so good #28