He embodies better than anyone an idea of patisserie that, little by little and fortunately, is catching on. It is that idea of the freshly made, natural and fresh, with the seasons and their products as a guide. A patisserie that is exactly what it looks like, and what it looks like is good, very good. Although he says he has not yet, Yann Couvreur has achieved success, and he has done so in the most difficult place in the world, Paris. In a little more than two years, he has consolidated his company with 64 employees and three stores that allow him to bring his creations to the consumer, and to the street. This was one of his great objectives after having worked a long time in large hotels that only have access to a very concrete public.
His vanilla cream mille-feuilles has become an emblem. Maybe it is because it represents those mentioned values of a real patisserie very well, with no more colors than those provided by fruit, with all the freshness and immediacy possible. It is a limited-edition mille-feuilles, but not because it was in a premeditated way for marketing purposes, but because it is a very laborious product and therefore not very profitable, and only those that can be made are made. Until they are sold out. Nor was the idea of being a pastry chef premeditated, but rather a coincidence. Yann Couvreur explains everything in so good #21 pages and teaches us how to prepare four of his most attractive creations.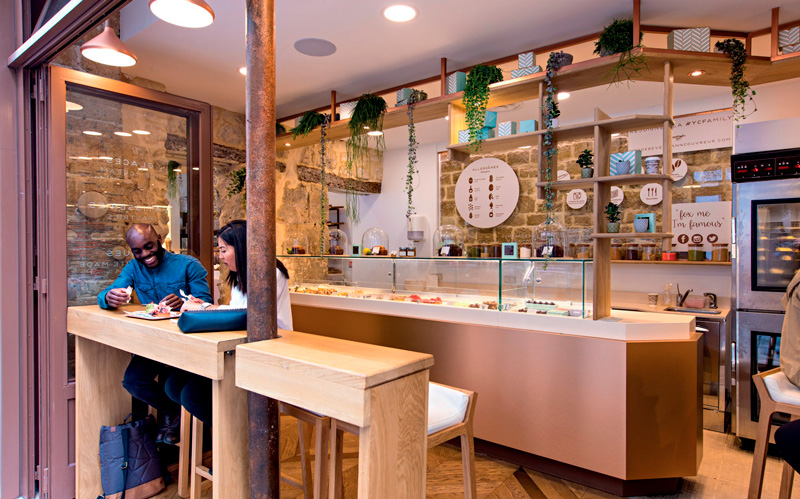 What drove you to be a pastry chef?
It was not a premeditated decision. I did not have either the family tradition or the vocation. I happened to do a stage in a pastry shop. Since I was not doing very well in my studies, all of this impelled me to study BEP Cuisine et CAP de pâtisserie. As I was working in large hotels and restaurants, the art of patisserie caught me.

What did you learn from Michel Troisgros?
The culture of good taste and the need to go to the essential: the base, the product, without frills or artifices. This has helped me to develop patisserie as I understand it today.
And how do you understand it?
Natural, fresh, and seasonal in terms of respect for the products of each season. Simple and easy to understand. Authentic and without artificial colors. Healthy, but not necessarily gluten free or without other ingredients. Patisserie which tastes good, and which has a good combination of flavors. I want the customer to access what I do without any barriers.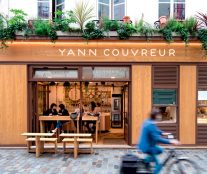 Why did you decide to open your own pastry shop?
Partly because after working in large hotels, I needed to have more contact with the customers and because I wanted my pastry shop could be on the street for anyone who wanted to visit it. And to be free and choose what products I want to offer my customers, and not have to comply with the burden of the rules that are made by the company you work for.
Mille-feuilles of limited edition, desserts served and consumed in the moment… is that the idea?
The limited edition has to do more with making a product that is not very profitable because it takes a lot of work to create. So we make as many as we can, and when they're sold out, then that's it. I do not want to focus everything on a single product either; I'd rather the customer had the chance to taste other things too. What we do try is to let the client understand the freshness in the products and all the generosity in the flavors.
Three stores underway. Triumphing in Paris and being only 36 years old cannot be easy. How is it done?
I do not think I have triumphed yet. We're on that. The stores are working very well but you have to see everything in a longer span of time. If everything continues like this, in 10 years maybe we could say that we have achieved it.
You'll find these four recipes in #sogood21