The luxurious Four Seasons Madrid, opened in 2020, maintains its firm commitment to develop a solid pastry offer, something that can be appreciated not only in its breakfast buffet and in the desserts of its restaurants, but also in the pieces that are exhibited in the two carefully designed showcases located in the hotel's lobby. Since last September, the Frenchman Valentin Mille, who already has extensive experience in the pastry department of major international restaurants and hotels, has been in charge of bringing this wide range of sweet creations to fruition. As the chef explains in so good.. magazine 29, his goal in Madrid is very clear: to build proposals capable of combining the local, tradition and modernity, all without losing sight of the fact that they are 'crowd-pleaser' products, i.e., capable of pleasing everyone, regardless of their origin. For this reason, he also pays special attention to gluten-free or even vegan preparations, as we can see in the three recipes he shares exclusively.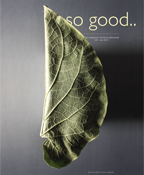 Tell us a little about your career before coming to Madrid.
I started very young in a traditional bakery in Alsace, where we made everything: pralinés, fondant… I learned a lot from that experience before leaving at the age of 18 to work in the kitchens of the three-Michelin-starred restaurant L'Auberge de L'Ill. In addition to learning about restaurant desserts, I discovered a different way of working, linked to luxury and excellence. That opened the door for me to work with Chef Guy Savoy, where I ended up in charge of the pastry proposals in his restaurants all over the world: Doha, Las Vegas, Singapore… At the age of 24, I was teaching and explaining to the teams there the sweet proposals and the techniques for preparing them.
What made you take the leap beyond France?
My wife, who is Australian. I moved to Brisbane with her. The problem was that pastry was not very strong there; people are very careful about what they eat and tend to avoid desserts. After a few years, I had the opportunity to head the pastry team of a luxury hotel in Hong Kong, a fascinating city with a great gastronomic offer. Now I am starting a new stage as executive pastry chef in Madrid.
"Working in a hotel like this has its beauty, as you are busy all the time with a wide variety of preparations"
What does it mean to manage the pastry department of a hotel like the Four Seasons?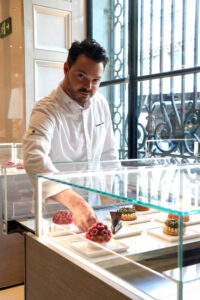 Working in a hotel like this has its beauty, as you are busy all the time with a wide variety of preparations. We are the only department that is involved in the entire hotel: we are in charge of everything, from the amenities in the rooms to the breakfasts, the desserts in the Isa and Dani Brasserie restaurants, the pastries displayed in the lobby and the events. You learn a lot about all the branches and techniques of pastry.
What differences do you want to implement here?
Behind each creation I propose there is a sum of different concerns. First of all, I try to bring them closer to local tastes, so that the pastries appeal to the people of Madrid without forgetting that they should also appeal to those who come from other continents. It is a challenge, because here people like very sweet elaborations. I like to look at Spain's and specifically Madrid's gastronomy, explore it, and also add touches from France or America in order to create something that is 'crowdpleaser', attractive to very different customers. In the end, we want to find the right balance between the local, the traditional and the modern, which is also the idea that the hotel seeks to convey: to be a modern space connected to the place where it is located.
"We want to find the right balance between the local, the traditional and the modern"
In what ways do you want to get closer to local tastes?
I would like to create a connection with local farmers and producers, so that we have access to fresh and local fruits, herbs and vegetables. This is something I started working on during my time in Hong Kong, connecting with small producers of honey, herbs, flowers… I think it's a positive bet, because it can lead us to offer something unique and connect with people in a more special way. For now, I try to use as many local ingredients as possible, whether it's milk or flours.
Beyond this local concern, what other signs of identity do you want to implement in your pâtisserie?
The idea is to create a pâtisserie that makes sense in the place where we are, that is not only beautiful, but also tasty and healthy. That the customer is able to taste it even when he is full or sated. To achieve this, the freshness and lightness of the ingredients is important. If we do not go for freshness and balance in the recipe, pâtisserie loses value. In a place like the Four Seasons Hotel, which has the possibility to count on fresh produce, we must go for it. The ultimate goal is excellence. We don't want to stop at doing things well, we want to be the best.
Discover these three recipes by Valentin Mille in so good #29