Surprising, stimulating, provocative… unique. These are words that describe well the dinners that are being organized by different cities under the name of Steinbeisser Experimental Gastronomy. Specifically, these are unique events that merge vegan culture, sustainability, the creative ingenuity of prestigious chefs and the reflections and proposals of all kinds of artists and designers in terms of utensils, decoration or tableware. Started in 2011, these rendezvous have been growing and consolidating thanks to the push of their creators, Martin Kullik and Jouw Wijnsma, who have managed to have chefs such as André Chiang, Californian David Kinch (Manresa), the German Thomas Bühner (La Vie, sogood #7) or the French Alexandre Gauthier (La Grenouillere).
Martin Kullik himself explains in so good #23 how the idea came to fruition: 'Jouw and I had initiated Steinbeisser back in 2009 as a platform to merge dance, design, fashion, jewelry, photography, performance and more. We hosted and curated exhibitions and performances, but we got tired of setting fantastic work of artists into a static environment.'
We wanted to share and tap the potential of plant-based foods, so the idea emerged of bringing our curiosity for the experimental artistic approach in touch with the potential of a new sophisticated plant-based cooking.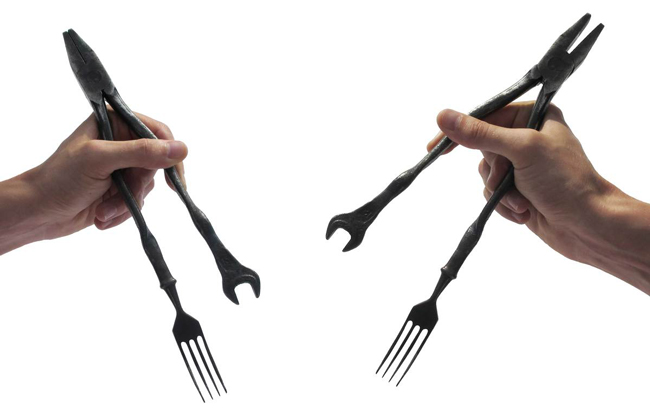 In addition to wagering seriously on veganism, these initiatives also explore concepts such as sustainability or proximity. "We have three guidelines: all plant-based, all organic / biodynamic, all local. It starts with the food, the drinks, going all the way until the tableware, including the napkins and the cleaning products. By setting these guidelines, we also set the tone for all of our working standards, for ourselves and for our partners.'
With this in mind, each event is carefully prepared to make it a one-of-a-kind experience. A kind of different look to a future maybe not so unlikely.
As Martin Kullik points out, 'each edition starts with us inviting an exciting chef to work with us. Then we invite the participating artists according to the chefs' aesthetics and sensibility. From there on, the chef and artists start to exchange their ideas, and a body of work emerges.' In addition to being enjoyed at three dinners, the idea is that utensils and crockery are for sale in the online store that the organizers have launched: www.jouwstore.com
'Each edition starts with us inviting an exciting chef to work with us. Then we invite the participating artists according to the chefs' aesthetics and sensibility.'
Oxalis, served with finger cup spoons by Sophie Hanagarth. The two fingers spoon is shaped as a protective layer for the thumb and index finger, stimulating the user to eat more with the hands.
Rhubarb, by chef Alexandre Gauthier (La Grenouillere**, France) served on leaves plate by Aino Nebel. The leaves plate is made of Limoges porcelain and glaze, partly colored and matt glazed, shaped by an extreme slow and irregular drying process over a period of two weeks.
Apple tartelette, by Chef Fabian Raffeiner (Meridiano*, Bern – Switzerland). It was served on a rusty plate by Othmar Prenner. The rusty plate is made from old train tracks that the artist repurposed in his studio by cutting the tracks into small parts and letting them rust.
Tamarillo ai-yu, by Chef André Chiang (Raw**, Taipei). They served this dish was in a pink clown bowl by Nick Weddell and with a utensil spoon by Jaydan Moore. The pink clown bowl is made of free-shaped clay and colorful glaze, while the utensil spoon is made of upcycled antique silver cutlery.
Garden herb sorbet and bitter cacao, by Pastry Chef Stephanie Prida (Manresa***, Los Gatos – USA) served on a shovel plate by Joe Pintz. The shovel plate replicates a garden shovel but then made of clay, symbolizing the increasing demand for fresh food grown on healthy soil.
Tomato X.O. by Chefs Lukas Mraz, Philip Rachinger and Felix Schellhorn (Healthy Boy Band, Austria). Served on an A.D.O. plate by Lillian Tørlen. The A.D.O. (aka Annoyingly Dependent Object) is a clay plate meant to feel as if it was melting. The wood parts are made from found or repurposed scrap wood.