In Dolç, the establishment that Yann Duytsche has in Sant Cugat (Barcelona), you can try these six freshly made snacks with intense, crunchy and creamy flavors. Six delights that are just a small sample of the gastronomic pastry that he produces daily in his workshop.
In the book, A week with Yann Duytsche, in addition to these snacks, you will find everything from tea pastries and confectionery to cakes and mousses, ice cream, cups, bonbons, travel cakes, snacks and plated desserts. A wide range of products signed by the French chef.
Discover One week with Yann Duytsche
Cherry Manjari
Three elements and three textures that do not oppose each other but complement each other perfectly. A trio formed by a light mousse, wrapped in a gelatinous veil and served on a crispy sablé. Simple, playful and colorful, but without artificial colors.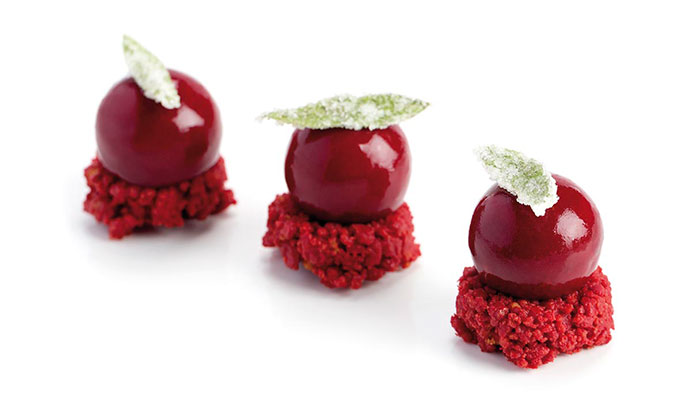 À fleur de peau
The skins of some ingredients are a powerful reserve of aromas, natural essences, fibers… We take advantage of the citrus fruit and roasted nut skins to enhance these aromas and bring all their organoleptic complexity. I recommend using organic products, so they do not have chemical residues in their natural packaging. And we will pay, as always, maximum attention to the preparation of the recipe. Any detail is important, the wrong weight or the wrong temperature when mixing or cooking can ruin everything. Pastry is a 'skin-deep' discipline that does not accept approximation, but a strict precision.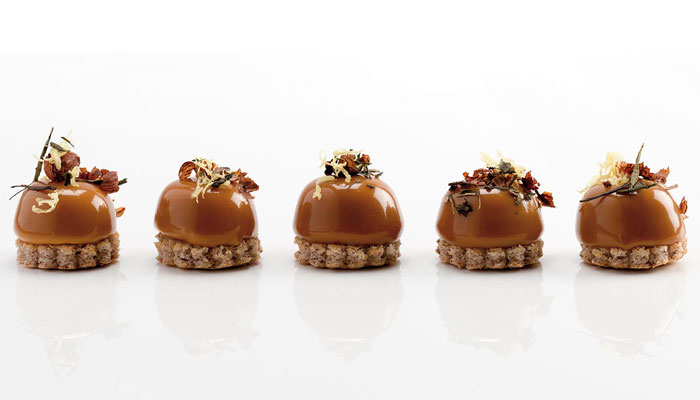 Chocolate, coffee and cocoa Chou-chou
It is essential for this crunchy and creamy bite to cook it daily and fill it just in time. Thus, the textures are presented in all their splendor offering a playful tasting.
To facilitate the work, you can reserve the petit choux in the freezer and the crisp disks already trimmed. And so that the dough develops properly, it is better to bake the pieces once thawed.
The varieties to present in a showcase are endless, with vanilla supreme, praliné chantilly, candied mint leaves, fruit gelées…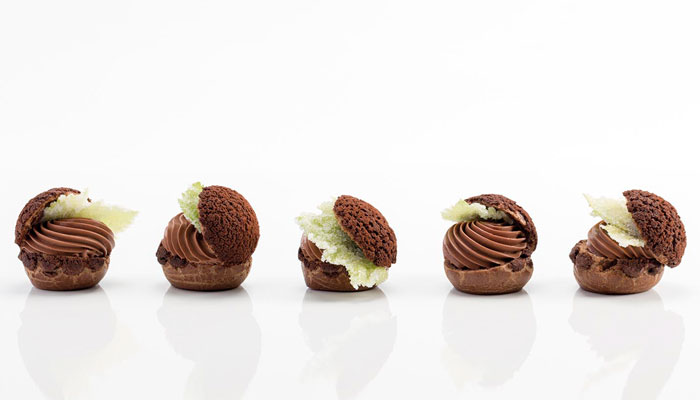 Green tea and apricot "pionono"
We were inspired by the delicious piononos at patisserie Ysla, in Santa Fé (Granada), whose founder, Ceferino Isla González, created them back in 1897. A delicacy that travels beyond its native Andalusia.
Our pionono has a matcha green tea sponge cake, the 'roulard', which is rolled over an apricot coulis gelée filling. The egg-based cream that covers the top of the roll is caramelized, thus giving an extra sweet touch to this creation.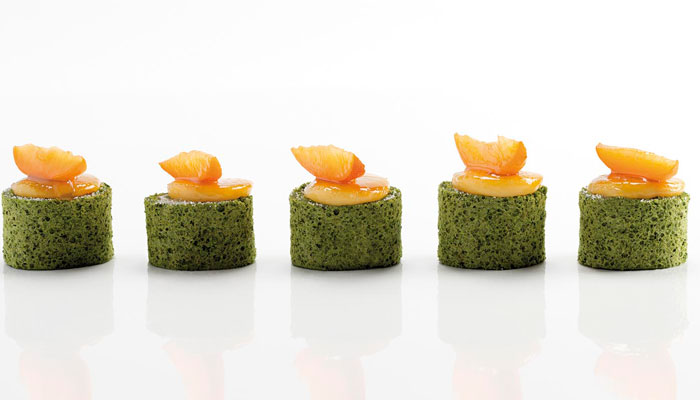 Red velvet passion
Passion provides this great classic creation of American pastry with an exotic touch, once again in fashion in pastry shops around the world. We make the original version with cream cheese, mascarpone, cream and confectioners' sugar – following Christian Escribà and Patricia Schmidt's advice.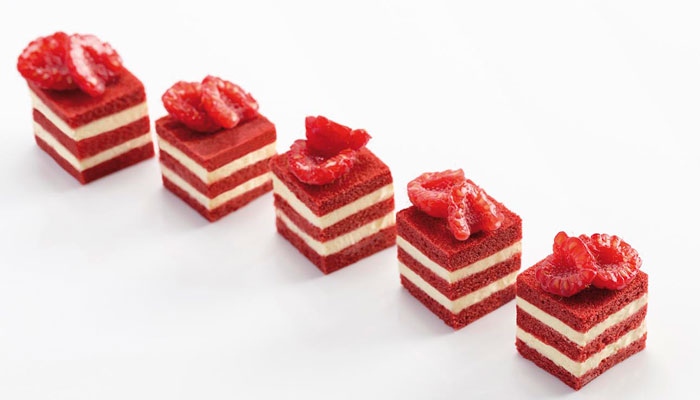 Upside down
As though it were a sandwich, the chocolate crémeux scented with tonka bean and notes of vanilla and bitter almond appears pris between a crispy cocoa sablé and a soft cocoa sponge with muscovado sugar Mauritius island.