Rory Macdonald has made a dream come true, to have a dessert bar in which to show the client that the sweet part of gastronomy has as much work and deserves as much interest as the savory part. In addition, he has done it in a place which is as dynamic as it is competitive, New York. Chanson Patisserie, his establishment where one can enjoy fantastic breakfasts and gourmet products such as the Black Sesame Kouign amann, the blood orange and earl gray chocolate petit gateaux, or the assortment of croissants, has a ground floor converted into a bar since last September, just after discovering an ancient speakeasy and clandestine gambling school from the Prohibition Era.
Rory Macdonald, after passing through great establishments such as Jun Tanaka in London, Gordon Ramsay in New York and, more recently, as Executive Pastry USA of Hakkasan Group, takes his first step into the world of shop pastry alongside an original project in which the part of pairings also plays a fundamental role, along with the mixologist Manuel Zuluaga. Both are rewriting the interaction of desserts and cocktails, crossing the border that separates them on more than one occasion or even creating proposals which are halfway between the two.
Photos: Jade Young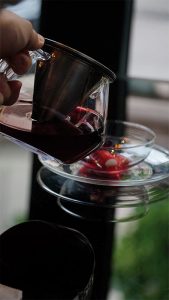 What connection points have you found between the world of sweets and that of pairings and cocktails?
We have found some really interesting and unexpected links between these worlds, whenever we create a new dessert we all sit down as a team and our Beverage Manager, Manuel Zuluaga, gives us 10+ options of different cocktails, fortified wines, dessert wines etc. And often the pairing you think will work on paper doesn't work but the unexpected option comes out best – it's not about trying to find desserts and cocktails that taste the same, it's about finding drinks that can enhance each other flavors – for example our PB+ J dessert pairs fantastic with our PX sherry –they really enhance each other when tasted together.
Are you exploring fusions between the world of infusions, the non-alcoholic drink, and the dessert itself, as if we were talking about a dessert/drink?
We have a few cocktails that Manuel created which we finish with gelato to sweeten it – our 'Gainsborough' cocktail is not a sweet drink at all, in fact slightly bitter, when we serve it to the guest we place some coconut gelato on a spoon on top and ask the guest to taste the drink without the gelato first and then add the gelato, mix it in and taste it again, so again, we are not trying to make sweet, sugary cocktails, we are trying find a balance. Our first aperitivo is also a gin & tonic sphere with a cucumber foam, which pops in your mouth when you eat it, it's a great example of making a cocktail into something a little different.
"The liquid nitrogen gives a nice effect, but it has a purpose more importantly – it's not just theatre"
Which dish do you feel most proud of since you began? Which is the most difficult to make? Which is the most popular and which one is the most experimental?
It was (and is) a real challenge to create six desserts that work together and not be too overwhelming, so when the guests leave they are not on a sugar rush, so I am proud that we have (hopefully) created that, the dish that I am most proud of is our Yuzu / Rooftop Honey / Barley dessert: it's sweetened only with local honey, which comes from the rooftop of a building around the corner from us (on 19th Street and Broadway), so for New York, as local as it gets, it has lots of textures of honey, the barley gelato has a really savory quality, the yuzu mango parfait is very refreshing, it is the second course in the tasting, so we needed to be careful with sweetness, and make something light but flavorful. My favorite though, and probably most experimental is our EVOO: Eucalyptus, we make a EVOO gelato finished with lemon zest and Maldon sea salt, and we sit that on top of euclaytus leaves, when we present the dessert we pour liquid nitrogen which releases the aromas of the eucalyptus, so you smell the eucalyptus but taste the olive oil and you get a very unique flavor. I don't think guests expect that a first course so it's a nice surprise, the liquid nitrogen gives a nice effect, but it has a purpose more importantly – it's not just theatre. Whenever we can, we try and explore the possibilities of smell and taste and how they can affect/enhance each other.
You will find Miso pink grapefruit cashew and Concord Grape three ways plated desserts in so good #19
Miso pink grapefruit cashew. Cocktail for pairing: Diluvio. The cocktail consists of Sake, gin, and raspberry eau de vie (un-aged brandy) which by using a 'Vac-pod' we infuse a blend of teas and spices to add depth and complexity to the drink. It is served warm which adds a soothing taste to the experience.
Concord Grape Three Ways. Cocktail for pairing: The Warren. This cocktail consists of Armagnac, 20 years old port, prunes, plum, and cigar tincture. The idea with this drink is to pair a cigar with a dark spirit drink without having to smoke the cigar. To accomplish this, we made an incense of the cigar and light it on fire to release the aromas. The cocoa around the glass is to give off a nice chocolate smell as you drink the cocktail.