Frank Haasnoot has just released Prisma, his first book, published by Grupo Vilbo. A book in which the Dutch chef exhibits his unique style, his multicultural influences, and his amazing finishes.
In Prisma, light is broken down into six colors (white, yellow, red, violet, green, and black), which, in turn, are the protagonists of fifty creations; some of which are emblematic and have been duly updated, and others which were previously unpublished.
After being presented in Spain last February at Intersicop, Haasnoot is going to carry out an extensive tour in 2019, with 15 stops, to make this book known. A tour that starts in Romania and ends in China, passing through Italy, the United Kingdom, India, Korea, Japan, Belgium, the Czech Republic, Greece, and the Netherlands.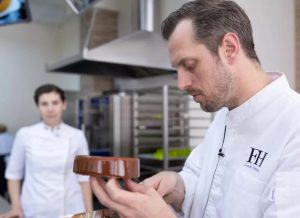 MARCH
Romania
APRIL
UK
Cocoa black (10/11/12 – 15/16/17)
MAY
Italy
India
Chocolate academy (21/22/23/24/25/26/27)
JUNE
Milan
Chocolate academy (17/18/19/20/21)
JULY
Shanghai
Tdessert (15/16/17/18/19)
AUGUST
Holland
Bakery Institute (9/10/11 – 16/17/18)
SEPTEMBER
Japan
Chocolate academy (1/2/3/4/5/6/7/8/9)
OCTOBER
Korea
Cacao Barry (7/8/9/10/11)
Belgium
Chocolate Academy (21/22/23)
Romania
NOVEMBER
Italy
Instituto Escelsa (11/12/13)
Greece
Czech republic
DECEMBER
China