Frank Haasnoot has achieved international fame, not only for his achievements in competitions, but for his surprising and unique designs that have influenced the entire industry and have set trends.
Winner of the World Chocolate Masters 2011, he is copied around the world by professionals who value his artistic approach, his personal vision, his identifiable style, and his striking decorations. And, as he explains, "when I design a product, I try to do something that no one has done before, something that seems appetizing and, of course, attractive to the eye".
To understand his style, the book Prisma is essential. With color as the common thread, this book alternates emblematic creations with other previously unpublished ones that share aesthetics, intensity of flavor, and perfect executions. Below, we review some of his most original designs included in the book and which invite you to experiment and deepen your creativity.

Discover Prisma by Frank Haasnoot
1. Ginger noir. Layers and symmetry
Haasnoot created this cake while working at the Mandarin Oriental in Taipei, Taiwan. Starting from the classic combination of chocolate and orange, he added some ginger to give it a spicy touch.
Regarding the design, the purpose was to show the attractive layers of the cake. In terms of the decoration, he opted for chocolate and an unconventional tool, as he himself relates. "In general, when I'm developing chocolate decorations, I know when to cut things with a knife. For this one, I wanted to create different shapes, so I started using toothpicks. What I like about the decoration is that it's symmetrical. So it's easy to make, it's not time consuming, and it still looks unique ".

2. Honey. Elegance and lightness
This particular shape, which is based on a diagonally cut PVC ring, was created when it was first presented to the World Chocolate Masters in 2006, where it came in fourth place. And years later he went back to it because "it's nothing fancy, but I think the design is unique," he says.
The fascinating thing about this cake is to see how, from a simple appearance, Haasnoot begins to create a discourse full of synergies. For the upper part it was inspired by plated desserts, in which a spoon is used to spread a sauce. "I did the same thing here with whipped ganache and a hot spoon to form the shape that you see on the top of the cake. I fill that in with a pure liquid honey, which creates a clean yet refined look ".

3. Leaves fall in Autumn
If something characterizes Haasnoot is his unique and identifiable style. A style that he achieves, in part, thanks to his particular way of making his own molds.
Among his many attractive pastry designs we find his leaves, undoubtedly key in this individual. But what was the creation process in this case? " In the past, I developed this pastry with a strawberry leaf. I like the concept, so I developed several pastries using different leaves. This leaf looks like one from fall and that's why I created a pastry around it. Using this particular shape to make my own molds allows me to create different designs of pastries. The usage of two leaves lends a natural feeling to the pastry", he assures.

4. Passion for wild strawberries
This is a classic and delicious wild strawberry tart with an attractive texture – the crunchy base is complemented by the creaminess of the pastry cream and a delicious aroma.
Wild strawberries are one of this chef's favorite fruits and he is clear that simplicity is the key to getting the most out of them. For this reason, here he uses a simple but very effective chocolate decoration that he learned in his time in Holland.

5. Tournesol. Sun, sunflower seeds, drops
Yellow is the color of sunlight, but also of ideas and spontaneity. It is the color of joy, ease, naturalness, and also of this beautiful individual dessert.
The design is inspired by a truffle called Tear that he made years ago. "I'd dip a truffle and hang it upside down. I made several different molded chocolates with it. I took balloons and dipped them in chocolate and let them drip upside down so it has a nice, elegant drop. That drop led to this pastry ".
As for the decoration, it pays homage to the time when he lived in Spain. "I would always see these grandpas eating sunflower seeds on the benches. I love sunflower seeds as well. I thought to myself, it would be nice to use something like that in my cake ".

6. Splash Arabica!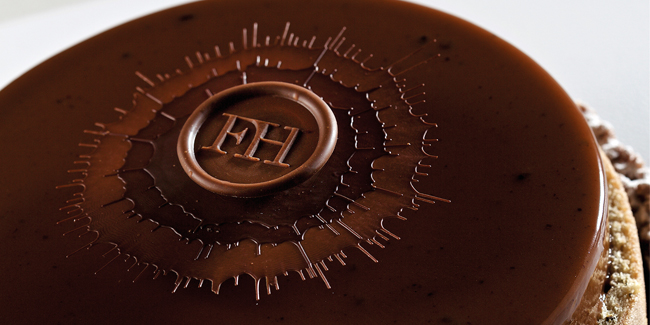 This spectacular piece is the result of a combination of different things "that I had already done before. I took the ideas for different cakes and put them all together, "says the Dutch chef.
The decoration, called Chocolate Splash, was developed in his time at The Peninsula Hotel in Hong Kong. He admits that at first he tried to make it by hand but realized that he needed something external to spin at high speed. And from there, his creativity and insight did the rest. "I looked around the kitchen and I saw a Robot Coupe. I took the cover off and killed the security switch. The technique consists of placing a cardboard disk on the blades (with adhesive tape) and a piece of paper on top. A drop of chocolate is poured into the center of the paper, the machine is started and voilà! "