We traveled to Buenos Aires to get to know Lab Sucré, the signature pastry shop run by Paola Chang since 2015. This Argentinian chef of Korean descent came to pastry almost out of curiosity, after studying business and administration management. But she found no limits. What started with a few recipes taken from television and shared with friends, turned into the need for something more, for some training and for different professional experiences both in Korea and in Paris.
Curiosity had already become not only her trade but 'my way of life', Paola Chang explains at so good #27. The natural conclusion was to open a signature pastry shop. At Lab Sucré, she 'hybridizes' her dual Argentinean and Korean culture with her training in Europe and Asia. An eminently French European technical base, an approach to local tastes and Asian references are the formula of her cocktail. She gets something good out of each of these facets. Paola Chang displays a pastry that strives for perfect and original presentations, simple in terms of flavors, yet complex in terms of technique and assembly. A game of balances worked over the years, looking for a way to awaken the curiosity and the mind of a public accustomed to a different and more traditional pastry, but that Paola Chang has successfully seduced.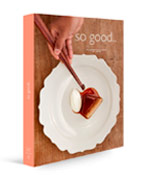 What interests you about pastry?
What this profession gives me is an endless number of combinations, textures and flavors, the possibility of uniting cultures, and being able to materialize creativity by creating a unique product. For me, there are no limits in pastry. Everything we imagine or create can be materialized and turned into an experience.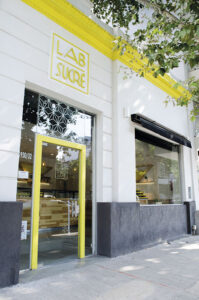 What inspired Lab Sucré?
After studying and working abroad, I decided to open a place where I could generate my own identity, with my personal language, and with the objective of transmitting it. I am Argentinean and of Korean descent, which results in a hybrid culture, or a third culture, Korean-Argentinean. What we do at Lab Sucré is signature pastry, fusing flavors, textures and techniques of oriental and western pastry.
What response have you had since you started it and do you find resistance from consumers who are used to more classic products?
We opened 6 years ago. At the beginning it was a challenge because our proposal was very different from what is usually offered in Argentina, where the trends are more European, both visually and in the mouth. With the passage of time, thanks to communication, we managed to encourage people to try our products, and luckily the result was successful. The initial resistance is logical, since the taste for gastronomy is subjected to personal experience, so there will always be consumers more focused on the classic. However, we were lucky enough to break, in many cases, that barrier.
How does your Asian base or connection play in interacting with more Western, American or European products?
Being born and raised in Argentina, I was used to a more European type of pastry, to its textures, flavors and contrasts. I reaffirmed this idea when I went to work and study in France. When I traveled to Asia, and tasted Korean and Japanese pastries, I noticed that their products are softer, more subtle and delicate when tasted. This marked contrast between one style and the other made me feel the need to create a middle ground, so I ended up combining, for example, more subtle bases and sponge cakes with European pastry creams, thus achieving a less sweet and more balanced pastry.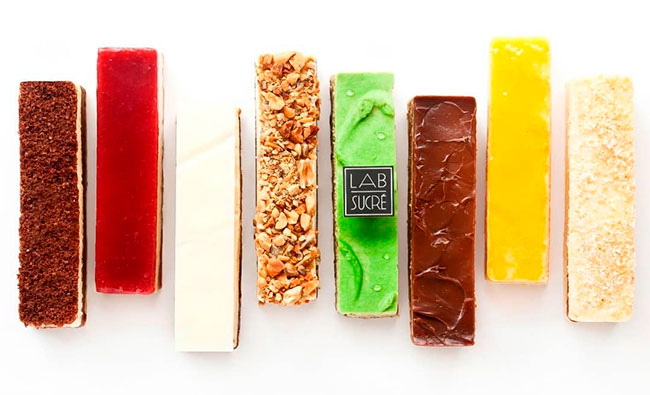 What importance do you give to presentation? Is it difficult to achieve your own style?
The presentation is the source of attraction for a person to feel the desire to eat it, either because of its aesthetics or the curiosity of its flavor. For me, taste is the main thing, but at the same time it is what I take for granted because I am in this business. The product has to be tasty. The fact that a person is paying for a product of mine is a commitment to quality, in which aesthetics and taste must always be present. It is a way of respecting and valuing the customer. I don't know if it is easy or not to create one's own style, but I do believe that each person has one, and as it develops, they identify it, adopt it and materialize it, thus generating their own distinctive brand that speaks for itself. In my case, I am very attracted to geometry and minimalism. I try not to over-garnish too much, to be simple and let the product speak for itself.
"This marked contrast between one style and the other (France and Asia) made me feel the need to create a middle ground, thus achieving a less sweet and more balanced pastry"
We are at a time of heightened health awareness, of making pastries lighter in sweetness and fats. Are you sensitive to these trends?
First of all, I try to make a less sweet, lighter pastry, with lighter sponge cakes and egg-free mousses. Most of the castella cakes are made with egg whites, without yolks. Some of our products are gluten-free or based on nut flour which we make ourselves. We have a wide variety of fruit products, and we do not use preservatives or artificial flavors. My intention is to please both adults and children, so the quality of the raw material is fundamental.
What have you prepared for so good.. magazine?
It is a reflection of my character, my culture, my hybridity, and my way of expressing pastry. On the one hand, I seek simplicity in the presentations, on the other complexity in the development of each assembly, thus achieving a balance.
Dicover these recipes by Paola Chang in so good #27