Nordic cuisine has left adolescence behind to become adult cuisine, practiced by dozens of prestigious chefs and entrenched on very clear values that are spreading throughout the world. In Scandinavian chefs' dishes (be they Danish, Swedish, Finnish, Norwegian or Icelandic) dishes constantly consists of common features such as elegance, minimalism, freshness, the territory, the season … and a bold commitment to vegetable elements, which are often even seen in the desserts. To record all this, we gather the most recent and charismatic desserts of great Danish chefs such as Rasmus Kofoed (Geranium), Søren Selin (AOC), and Jonathan Berntsen (Clou).
Rasmus Kofoed. Feeling nature
Photos: Claes Bech-Poulsen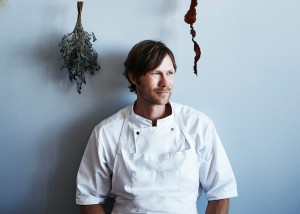 On the eighth floor of the National Stadium in Copenhagen, as if it were a lighthouse on the Faelledparken, is the restaurant Geranium, one of the most illustrious gastronomic temples in Nordic cuisine. Rasmus Kofoed, the only chef who has presented himself three times to the Bocuse d'Or (2005,2007 and 2011), obtained bronze, silver and gold respectively. No big deal. The key to his cuisine is found in an original and multisensorial embodiment of what nature provides.
The chef himself is very clear: 'I think the name of the restaurant defines my cuisine very well. To begin with, it talks about life: the geranium is alive. it also speaks of the very relevant value of the vegetable in my kitchen. And it also speaks of the different senses (color, smell, touch, taste), since a flower plays on all those levels. Therefore, I would say that my cuisine is very lively, with a significant vegetable load, and very sensorial, attending to all the senses that come into play within a dish.' All of these features are also translated to the world of desserts.
'We found that we could do whatever we wanted. There were no rules for changing our cuisine'
Delving into the projection of Nordic cuisine, Rasmus Kofoed begins by emphasizing a differential fact, that in Scandinavia there is a strong culinary history. A reality that is a challenge and at the same time an advantage. 'We found that we could do whatever we wanted. There were no rules for changing our cuisine. In recent years, things have been very great, and there are chefs who are wondering what they can extract from their country, their landscapes.'
We took advantage of the opportunity to ask whether there are differences between the cuisines in the different Nordic countries. And Rasmus is clear: 'we are stronger together.'
Søren Selin. Mirror of the earth
Photos of the dishes: Claes Bech-Poulsen
Photos of the chef and restaurant: Signe Birk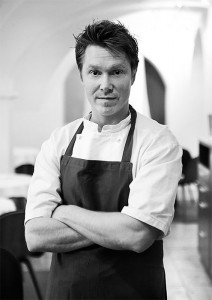 In a colorful 17th century wine cellar, in the heart of Copenhagen's Old Town, is the restaurant AOC, which has been run by Søren Selin since 2013, a new talent for Nordic cuisine wrought in prestigious Parisian kitchens such as Le Relais Louis XIII and Jules Verne. His arrival at the restaurant has quickly earned it the second Michelin star thanks to a decided commitment to an elegant and honest, clean and simple local cuisine.
An admirer of René Redzepi, 'what he has done for the Nordic countries and their gastronomy speaks for itself,' Søren Selin focuses on sublimating the flavor of his ingredients. 'I love going in search of taste. Sometimes, the technique gets in the way of flavor. I try not to manipulate the ingredients too much. Once you get older you tend to make everything simpler and focus on the flavors.'
Seasonality also plays a key role in AOC, giving priority to the products that one may have on hand at that moment. 'I do not see any weaknesses in using local produce or following the seasons. It may seem to limit, but with limits comes creativity. You are bound to try something with what you have. For example, we have lots of desserts with raw vegetables. This is because we do not have berries eight months out of the year. It's a limit, it may be a weakness, but I actually think it's a strength. That's when you make something truly creative.'
'We do not have berries eight months out of the year. It's a limit, it may be a weakness, but I actually think it's a strength. That's when you make something truly creative.'
Regarding Nordic cuisine, the chef highlights the evolution experienced: '15 years ago, it was difficult to find the right ingredients. We were very accustomed to using ingredients from France or Germany. Today it is much easier to find almost anything locally, so it has been improved at a gustatory level. There was a time when there were lots of weird ingredients and maybe we needed a bit of balance. Today the balance is much greater.'
You will find two recipes in so good #17
Jonathan Kjølhede Berntsen. Mediterranean Inspiration
Photos: Thomas Hommelgaard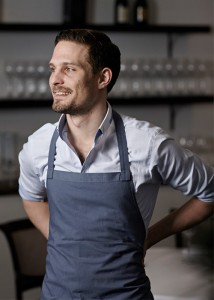 It did not even take a year for the Michelin Guide to reward the new gastronomic project of the twins Alexander and Jonathan Berntsen with a Michelin star. Copenhagen's Clou restaurant opened at the end of 2012 as a logical consequence of the three small wine shops that both brothers had in the Danish capital. At the head of the kitchen is Jonathan, who focuses on dishes of Nordic appearance (local ingredients are very common, but without fundamentalisms), where interesting Mediterranean inspirations are also appreciated, using techniques learned in Italy, Spain, and France.
This interesting fusion also reaches the sweet side of the menu, as you can see in these two desserts that the chef currently makes. Nordic elegance, plant elements, and obvious French touches through ingredients such as cognac.
'Dishes of Nordic appearance (local ingredients are very common, but without fundamentalisms), where interesting Mediterranean inspirations are also appreciated, using techniques learned in Italy, Spain, and France'
You will find two recipes in so good #17