The Academy of Pastry Arts opened in Kuala Lumpur in 2010 by the hands of Niklesh Sharma. 'I was having a fantastic career in hotels in terms of growth and promotion,' recalls the chef himself, "but I knew that there was still a lot I need to learn.' And it was precisely this inquisitiveness that pushed him to promote a knowledge exchange platform that could be reached by the best chefs from around the world.
Although now it may seem like a habitual phenomenon, 10 years ago very few chefs of international prestige toured the world, much less the area of Southeast Asia. Precisely, it is thanks to the work developed by Niklesh Sharma in his Academy, that the professionals from this region have progressed significantly in such a short amount of time, beginning to surprise everyone with their professional level in many different international competitions; first in the Asia Pastry Cup, and then in the World Pastry Cup. That was until the 2019 edition arrived, and the Malaysian team was proclaimed the absolute world champion. A team in which all its members had passed through the Niklesh Sharma Academy, or are currently part of its current team of teachers. To his credit, there is also the gestation of another event regarding pastry training at a local and international level is also recognized. We refer to the Asia Pastry Forum as a gathering of some twenty great French and international chefs who meet in Kuala Lumpur every year around the month of October. For almost four weeks the rendezvous concentrates on a large number of master classes, for which professionals from the country and more and more from all over the world are attracted.
Niklesh Sharma is one of the main culprits of this rapid pastry growth in such a relatively short time. With him, we talked in so good #22 about how he perceives haute pâtisserie at the moment both in Malaysia, and in the nearby countries where, he himself has opened his centers: India, the Philippines, Indonesia and, soon, Singapore. The appearance of native professionals and the improvement of the professional level are changing the reality and the culture of pastry in these countries.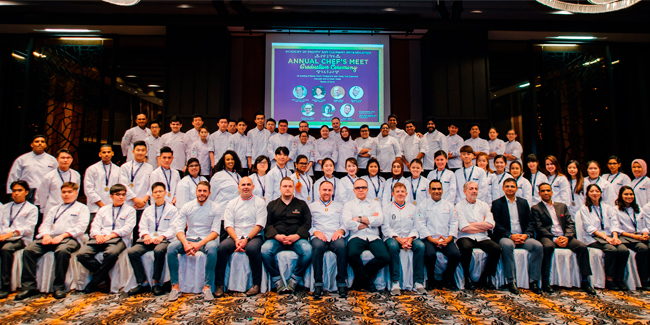 When did you start to participate in pastry competitions? Why are you so interested in bringing your best professionals to this kind of international events?
I started competing in 2009 in Local and National competitors in Malaysia. I always ensure that all my pastry chefs from hotels compete in some or other category of pastry. Competing ensure that we practice more, and our skills and confidence grow faster. When we opened academy of Pastry Arts Malaysia, we were the best place to learn from visiting guest chefs. Every day after classes, we have more time to study, explore and practice. Better result in International competitions always motivate us to learn more and more and we reach a level that the entire pastry & Bakery chefs' team of school wants to compete. It is a very energetic culture in the school where any chef can practice till any time in the night.
I decided to create Asia Pastry Forum because I wanted to provide a world class professional learning at an affordable price in Asia.
And what about the Asia Pastry Forum, why did you decide to do something like this?
I decided to create Asia Pastry Forum because I wanted to provide a world class professional learning at an affordable price in Asia. Also, I wanted to make it bigger with 20 or more chefs so that students or professionals can plan it properly, like their yearly training, and can get all the different learning under one roof. Malaysia offers best quality accommodation and food in terms of price. Connectivity within Asia, Australia, Middle East and Europe make it an interesting destination for an event like this.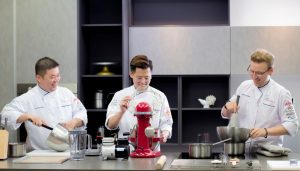 Was it hard for you at the beginning to bring important pastry chefs to Malaysia?
Asia Pastry Forum was an instant hit. It has already bee nine years now for the forum and we normally start getting enquiries nine months ahead of the forum. It is a blessing for local pastry chefs as hotels and colleges can actually use the government grant to upgrade their chefs. Our students get the best benefit as they get free workshops from the master chefs. Also, we give free master classes to our past graduate students who are doing well in the hotels or their own business. It is like helping our graduate further more to do well in industry. For us Asia Pastry Forum is a hub for sharing and exposure of skills.
Where may we find Academy of Pastry Arts facilities nowadays? What type of courses do you offer?
Academy of Pastry Arts offers a world class facility in all campuses. The level of training we provide to our students is way beyond any other pastry schools in the world. We don't deviate from the basic. Engage the best chefs who are only known for taste, texture and aroma. For us conventional learning is more important. Where others are more on glazing and good-looking products we are more into technology of butter, cream, sugar, flour and chocolates. At the same time, we are very modern and creative in our approach. The exposure in terms of thermoforming of molds, making silicon molds, digital cutting, tempering matching, enrobing, panning & bean to bar is something which not every school teaches. I personally oversee the training structure of all the schools not only for students but also for all the chef Instructors. We offer 6 types of programs in our school. 9-Month Full time advance diploma, 24-day Intensive pastry program for pastry chefs & pastry shop owners, 2-week Professional Bakery and 2-week Professional Chocolatier program for business owners. Then we do master classes by our in-house master chefs and master class during Asia Pastry Forum.
"Where others are more on glazing and good looking products we are more into technology of butter, cream, sugar, flour and chocolates"
Is there an increasing interest in the pastry craft in Malaysia and other countries in the area?
Yes, Malaysian students are very interested in doing skill-based programs and start a career. We are actually surprised when we see graduates from different streams take pastry as a career option. Many of them want to become young entrepreneurs. Home bakers and online pastry business have changed the entire pastry industry and created a new demand. We are surprised that this younger generation of young entrepreneurs are more interested in training nowadays more than conventional pastry chefs. Singapore has a very developed pastry culture. Countries like Indonesia, Thailand, Philippines are developing very fast. We are happy that the academy has connected all of them and brought them to this single platform of learning and sharing.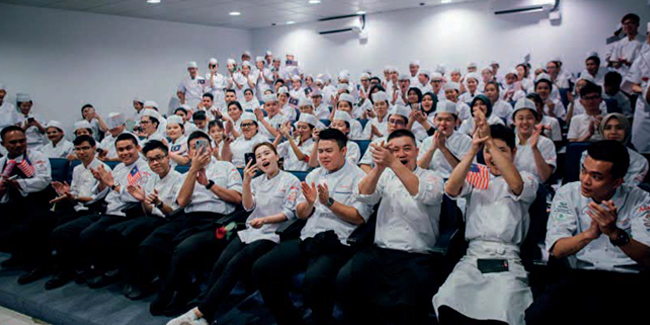 Do you think the Malaysian victory at the Coupe du Monde de Patisserie helps to change the international perception of Malaysia in terms of haute patisserie?
One has to understand this; all these World Champions and other award-Winning Pastry Chefs have been part of the Academy of Pastry Arts Malaysia. Malaysia has been consistently performing very well since 2014 in all major pastry competitions. With World Pastry Championship, it has strongly positioned the way Malaysians have been practicing and performing. All the pastry chefs in Asian countries have been looking at Malaysia with lots of respect. Every year we have more than 150 pastry chefs worldwide travelling to Malaysia only to learn from our in-house pastry chefs. So, I think the international perception is already changing, and with the victory at the Coupe du Monde de La Pâtisserie, it has become more prominent.
"We are surprised that these younger generations of young entrepreneurs are more interested in training more than convenciontal pastry chefs"
What other countries would you recommend the readers to pay attention to, besides Malaysia?
Whenever we decide to open an Academy anywhere, we look at the country as a whole. I mean, we try to make strategic plan as how we will be able to contribute to the young pastry chefs and the general pastry culture of that particular country. I look at Philippines and India as two emerging countries in the future. They are growing fast and pastry chefs are hungry to learn more and more. There is a young female pastry chef, Janelle Toh, in Philippines whose work I am personally very excited to see in the school as well as during the competitions. With Philippines Pastry Forum and India Pastry Forum, we have laid the foundations and I see them coming up great in the coming years. Indonesia is another country where we see huge potential and they are much more advanced then we currently know about them.
What advice do you usually give your students in order to be successful in the pastry trade?
Pastry and bakery industry are amazing, with opportunities in hotels, pastry shops, restaurants, bakeries, wedding cake studios or chocolatiers. It is an Industry which will always grow and so will your career, be it your job or your own business. Ensure that you work hard, gain skills, practice a lot and read more. Ensure that you are always updating and upgrading your skills.
Discover the creations of other chef instructors of the Academy of Pastry Arts such as Angelo Vantoorn,
Lim Chin Kheng, Loi Ming Ai and Wei Loon Tan in sogood#22