It is difficult to do more things in such a short time. At just 30 years old, Maxime Maniez, in addition to giving himself a solid education, knows what it is like to work in bakery, pâtisserie and chocolaterie and even manage a team of 20 people in a large hotel in Shanghai and be the Executive Pastry Chef of Yannick Alleno in Seoul.
His journey began when he was only 14 years old, following the recommendations of his baker uncle, within the world of bread, which helped him to learn the basics of the trade from the ground up. After two years as an apprentice and one more in a bakery in the west of France, he completed his bakery degree (BP). From that period, he remembers his teacher Arnaud Alloteau, who passed on to him his love of bread and viennoiserie. The next step was to graduate in pâtisserie, chocolaterie and confectionery (BTM), under the guidance of his chef Jean-Yves Tartarin, who showed him the world of luxury pastries and restaurant in Paris and taught him how to become entrepreneur and autonomous. Cyril Lignac and Benoît Couvrand gave him the keys to grow as a pastry chef and not forget his origins to keep simple, generous and honest. In 2015 he had the opportunity to work in Shanghai as a pastry sous-chef at TWG tea, a boutique based on desserts shop and afternoon tea. A year later, when he was only 23, he was hired as a pastry chef at the Park Hyatt, with 20 people under his charge and countless sections to attend to, buffet, fine dining, steakhouse, bar, shops, afternoon tea, banquet… Finally, three years later he moved to Seoul to join the structure of the Signiel hotel as Executive Pastry Chef, under Yannick Alleno, 'an incredible meet with an impressive chef, with a unique career and such a talent. He let me flourish every day and trust me. He became an example for me,' says Maniez. He is now back in France where he is starting new projects.
With such a professional and vital background, it is not surprising that this young chef has such clear ideas and has so much respect for his profession, as seen in the interview at so good.. 28. And it is not surprising either that he bets on the great classics, albeit à la minute and with a personal touch that you cannot miss.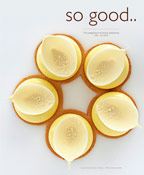 How do you define your creations? Which is the concept?
Gourmand, efficient, classic and modern, generous, honest and plaisir. The concept is really to give a unique experience to the guests and touch their emotions. I like to work different textures, sensations, temperatures and match unexpected flavors and ingredients. Keeping the basics and classics as we learned and know them and modernize some to surprise and satisfy our customers.
'Too many flavors in one dessert make that in the end we get lost and fail to recognize anything'
Why are you so fascinated by classic desserts like a crêpe or a French toast?
First of all, these are the roots of pastry and they cannot be forgotten or disliked by a majority of people. In addition to that, we also have to introduce our French culture and history abroad to our clients to explain to them the traditional French desserts style.
I also personally like to work with traditional desserts, use a touch of local ingredients and cook them at the last minute so that the client has the best sensation (French toast, toasted à la minute in the crêpe machine and roasted corn in barbecue to give it that characteristic smell, flambéed crêpe with a 4-year-old homemade liquor of local fruit, profiterole made with ice cream in the turbine at the last minute for a fresh texture…).
What will be, in your opinion, the pastry's future like? Where are the trends going?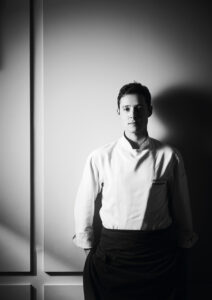 In my opinion, it is already and will be a pastry based on the design. of course, like a piece of art, modern, unique. We can see nowadays how the shape and creativity is important to catch the eyes of the clients, especially on social media.
Also, more and more we are looking on the pure taste of the product. Less and less sweet to get the original taste of the ingredients that we want to express. For example, if we work with hazelnuts we will try to work the hazelnut in many different ways and textures (crunch, mousse, extraction, praliné with salt, sourness…) to sensitize the guest emotion as much as we can.
And health too. We all want to eat a dessert without putting on any weight, so work on desserts that are good for our shape and health while maintaining the pleasure of the tastes and textures (vegan, gluten free, egg free, sugar free). Take chef Alleno and Rivoire as an example – in their chocolate shop in Paris, they work with sugar-free fruit confits and chocolate with birch syrup to have the pleasure to enjoy confectionery with no sugar added. Finally, new techniques, textures, ways to impress the customer. This is more feasible in a restaurant industry as we can do some last steps at the client's table. Chef Yannick Alleno call it the 'pâtisserie cuisinée', as we 'cook' the desserts to bring the unique and perfect sensation and temperature to the guests.
'Simplicity and purity are essential. The same is true for flavors and ingredients'
What is lacking and what is in excess in today's haute pâtisserie?
I think time is always the thing we lack. It takes time to create, improve new products. Teaching people can take months or years and we have to make it sometimes in a few days or weeks. But that is simply part of the job. What I would eliminate is making and using excessive decoration on cakes and desserts as it takes too long to make them, they don't bring beauty, make the dessert heavier and don't improve the taste at all! Simplicity and purity are essential. The same is true for flavors and ingredients. Too many ingredients or flavors in one dessert make that in the end we get lost and fail to feel or recognize anything. On the other hand, sugar is necessary and essential in pastry, although we have to balance it and refrain from putting too much so as to prevent it from covering all the flavors. Finally, I think artificial food coloring should be removed and only the power and beauty of the fruits and ingredients should be used.
Roasted corn French toast and caramel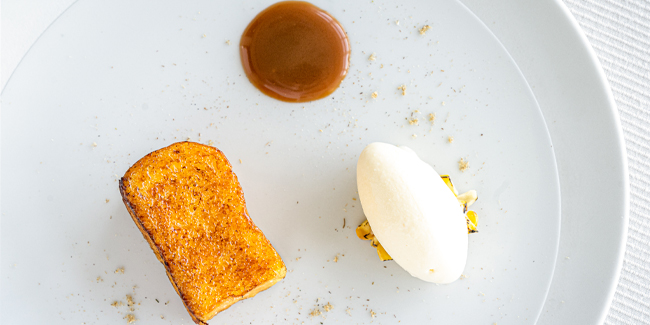 French toast is also a typical and historical French dessert and this one was loved by everybody. In Korea the corn season is a very popular time as many people loves to enjoy corn in a different way in the city (roasted, ice cream, bingsu, fresh…). Here I wanted to really go into a strong corn flavor without disturbing the palate. That is why I created a different way to prepare it. We make a brioche based of corn flour, we use the corn leaves to make powder, we roast the corn to make an ice cream and we also use fresh corn to have a natural flavor in mouth. Taste and texture. The French toast is baked à la minute so as to mix a warm sensation with a cold ice cream
Discover these recipes by Maxime Maniez in so good #28