Based in Canada, the pastry chef Ksenia Penkina is part of that generation of women who have entered the professional scene with strength, offering a colorful and renewed way of understanding pastry making. Focused on the training of people who are beginning in the profession around the world, Ksenia bets for creations that she herself defines as precise, classic and elegant. Although she recognizes that he especially enjoys adding her touch to the visual effects which glaze allows, the creations she shares with us show a very different line. As she explains at so good #19, they are entremets that have taken her beyond her comfort zone, a space as dangerous as fascinating from which the brightest ideas can emerge.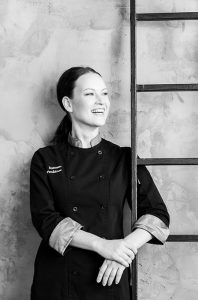 Why did you become a pastry chef?
Since I was a child, I never stopped creating. I have gone through limitless amount of arts and hobbies until I found my passion in patisserie. My passion began when I saw works from my sister, pastry chef Alexandra. I was impressed with the beauty of her desserts at first, how flawless they were on the outside. Then I realized how smart and challenging the inside world is too. It's like you meet a perfect partner, who is not only handsome, but also intelligent. In Switzerland, I was introduced to an extensive kitchen and all of the basic ingredients, tools and equipment for the first time. Kitchen became limitless, free, challenging and creative. Currently I perform master classes and share my passion around the world. I wish for all the people to find themselves, be happy and free at what they do.
How would you define your creations?
I am working mostly with entremets, mousse based cakes. People would know me for my glazing style and I am highly attentive to it. I prefer to leave my desserts with very limited decoration. Usually, my cakes already consist of several glaze or velvet colors, adding some additional weight to it is unnecessary. Glazing is my favorite part. However, the most important part is the cake itself. The inside world of my dessert is simple and clear. I feel most people prefer something they can understand, something they are familiar with. Having three-four flavors in the cake is enough. Something significant I implement to each of my desserts is balance in textures: light and soft mousse, creamy layer, crunch, biscuit and a bright insert. Altogether, it is built into classical shapes: pastry rings or round molds. My work is accurate and precise, classy and elegant. Just like me. I believe also that your creation should represent you. That is the way to be different. Push yourself out of comfort zone in copying and start looking for personal strong ideas.
"I believe that your creation should represent you. That is the way to be different. Push yourself out of comfort zone in copying and start looking for personal strong ideas"
Why do you think there's an increasing interest in patisserie around the world?
Honestly, I think there is increasing interest in everything around the world, including patisserie. Word of Mouth, Books and TV used to be the most important, but very limited tool in spreading the information. Nowadays it has been replaced with Internet and all the social networks. The amount of information crushing on us every single day is unbelievable! That means we can learn more, we can receive more and finally we can create more. Especially in the industry like pastry, with no limits to growing.
Growing web madness also comes with a 'beautiful picture' must-have. This is another reason why interest in patisserie is booming. Not only your dessert can be tasty, but also attractive to the eye. Nowadays, bakers not only create unique texture, flavor and balance in their dessert, but also designs that must impress a viewer. It could be your follower, your customer or another professional chef.
How do you conceive your teaching philosophy?
My classes are both online and hands on. I am highly focused on teaching students with no or little experience. Everyone should have an opportunity to create something special, something that used to be available only to professionals. I am providing basics in a way they can start generating and embracing their own ideas. My goal is to make them powerful by having the knowledge and using it individually.
Most of my students don't know yet how deep this subject is. My social networks are filled with pictures of glazed cakes and that is what leads them to my class. I am glad to shift their perspective and work on something more important and meaningful than this. We actually dedicate 90% of our time to theory, basics, textures, temperatures and techniques of making the cake itself: layer, mousse and biscuit. At the end of the class, most of the appreciation and hugs I get come because of that information. We also have some magical moments and it comes with the glazing time, at the very end, showing different techniques and effects that can be done with the glaze, using various tools.
You will also find these two recipes in so good #19