Joaquin Soriano and Chuang Ju opened CJSJ 5 years ago, in the city of Taichung in the center of the island of Taiwan. Although Soriano is French and has developed the initial part of his career in such emblematic places as Le Meurice by Yannick Alléno and Alain Ducasse in Paris, his relationship with Chuang Ju led them to a new stage after the birth of their son. It was time to try their luck in Chuang's hometown. Without giving up anything, and maintaining its nonconformist feature, this establishment has been making its way in an area not entirely accustomed to French-based patisserie. Their personal style and their demand for quality and beautiful, suggestive results have brought them an increasing success, in addition to the opportunity to collaborate with dozens of companies on personal projects, events and pop-ups. All in all, today they develop a patisserie adapted to the tastes of their customers, yet faithful to the idiosyncrasy of the chef in charge, as we can see in so good #24.
In reality, although it might seem like the typical business born from the thread of a globalized society, CJSJ is the result of a personal initiative and the nature of a restless chef who was prepared to settle down. In many ways, he is a self-made professional, who has not settled for learning the basics of a trade but has experimented – and continues to do so – with new ingredients, techniques, and the results obtained. Whether it is a new type of pectin or to see what happens to a lifelong resource when we modify it, Joaquin Soriano feeds his creativity on constant learning. The daily work in the workshop, his love for Japanese manga, drawings or the children's universe, and, of course, the willingness to surprise and tune in with his customers, complete the sources of inspiration of a signature patisserie which does not leave anyone indifferent.
CJSJ has a ground floor that functions as a store, a first floor where the workshop is located and some spaces used as a tasting room between the first and second floors, where you can taste the local delicatessen. Delicatessen which, as we said, are also protagonists of all kinds of events and personalized initiatives for the business world.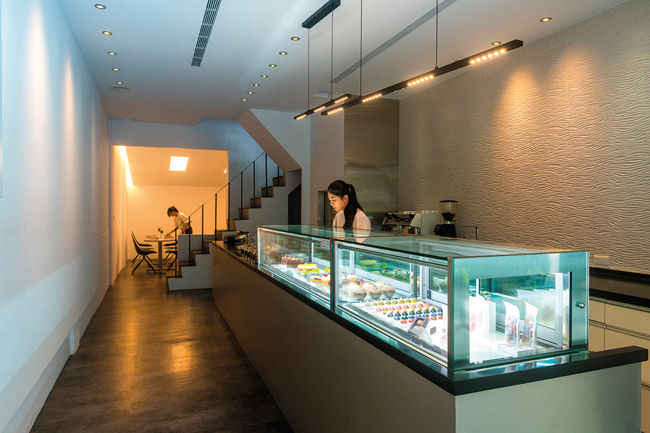 What of your past has defined the professional you are nowadays and your pastry philosophy?
I would say my first steps in the business! I come from far, far away and that's what reminds me at times that only you and no one else will do it for you – 'believe in yourself and constantly persist in what you think'.
For example I had voluntarily wanted to remove the acid solution from a pâte de fruit, because I absolutely wanted to have less acidity, and the people I worked with mocked me saying 'you're really stupid, if you put the acid solution it's for anything in particular', but without any explanation of the interest or the impact that the ingredient in question has.
I persisted on my stupidity, because I wanted to see the effect, the reaction, the texture myself. I didn't care about the final result even if it was bound to fail, because by failing or being wrong, I learn! And then I won't make that mistake again, or I may even discover something interesting in my mistake. Of course, my resulting pâte de fruit was like silicone! Awful! I could have made a mold with it!!! May it be a nice idea for a future mold?
For those who don't know me, I didn't want to do this job in the first place. It's a bit of a coincidence, but I became the professional I am today thanks to sport and competition, which has instilled this mentality in me.
I always go further, faster, stronger, higher, and I see my job and my shop as it is every day – it's competition! I always want to be better, of course, it's a way of thinking that is personal to me and that helps me to always try to find something new, a technique to master, faster, more easily while keeping an optimal quality for my products. Always looking at what others do, understanding why they cook like that, or why they use x58 pectin and not LM for example.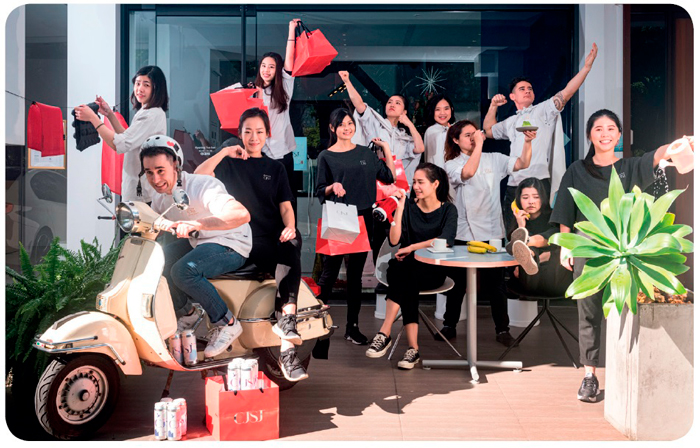 I persisted on my stupidity, because I wanted to see the effect, the reaction, the texture myself. I didn't care about the final result even if it was bound to fail, because by failing or being wrong, I learn!
Are there many people interested in French-based signature pastry in Taiwan? Would you say is there an increasing interest?
No, not really, local people partly know the so-called traditional pastry, maybe a few products such as the millefeuille, the lemon pie, macaroon, cannelé or madeleine, even though for the last three, four years this type of pastry has started to settle in and gain a small place in their food habits (especially those of the young people).
Our daily work is to share our culture and our knowledge of pastry with them, and to show that the world of pastry is vast and has many facets. As a foreigner, it is my duty to bring something to the country and to the local people, to teach them and to know how to orient their choices correctly according to their needs.
So it is clear that you have a solid French pastry basis, but would you say your creativity has no limits?
Without false modesty, I have many shortcomings and I will have them all my life. The business is evolving so fast and even more so with social networks that it is impossible to master and know everything. Even on the last day of my professional life I will still learn something. (My team reminds me every day). Creativity has no limits, but I do have limits myself – regarding time, people (I can't split myself in half) and knowledge; only I don't know yet when it will stop.
How is the creativity process oriented at the launch of a new product?
As for the creative part, it's continually organized in my head during the production process. I need to be in contact with the texture, to practice constantly. I work with the team from 7 am until 3 pm and then, once finished, the creative part continues in front of the computer screen until about 11 pm. Whether on paper or on two excellent software programs, H-Choc from my friend Frederic Hawecker MOF 2011 and the Commisoft software that saves me a lot of time, energy and raw material.
Then I run my tests at the end of the production day, which allows my team to be comfortable with the lab and the equipment. Before launching any product, I force myself to run three tests per new production. If after three tests, I don't approve of it, it's because I don't master my subject, so I'll put it aside and I'll come back to it later when I've made some progress or discovered a better approach. It could be a month, six months or even more. I really thank Christophe Renou for sharing with me this way of working, because I am much more efficient when it comes to development.
Discover these CJSJ's hits by Joaquin Soriano in sogood #24