On so good 22, we were visited by the Dutch chefs Bart de Gans and Maurits Van der Vooren after their trip through the Galaxy. From that antigravity experience, six exceptional creations were born showing their authors' imagination and creativity. Today we rediscover this spectacular work to pay our particular tribute to Maurits Van der Vooren, who passed away on March 23 after two years of fighting cancer. His vision as a food designer has always led him to conceive each creation not only from a strictly taste point of view, but also in terms of the concept and context in which the products are to be served.
Being friends and professional colleagues, Bart de Gans and Maurits van der Vooren wanted to unite their talents, philosophy and inquisitiveness in a common project. A common project based on coincidences in their respective trajectories and their immediate purposes, but which would also feed on their differences and particularities. Two worlds that come into contact, two creative minds that explode in the form of an assortment of products around the same theme: an intergalactic journey.
This gastronomic and, at the same time, astronomical symphony consists of several scores, whether in the shape of cakes, individual desserts, plated desserts, bonbons or even drinks. And in each score, both chefs have worked from a different approach: Maurits van der Vooren wanted to put forward his innovative impetus, with a sensitivity forged in the world of signature restaurants, while Bart de Gans deployed his broad technical base and the skills of a store pastry chef. In their works, planets are born, as well as meteorites, lunar surfaces and very suggestive anti-gravitational foods.
INSPIRED BY THE MOON
Moon walk (plated dessert)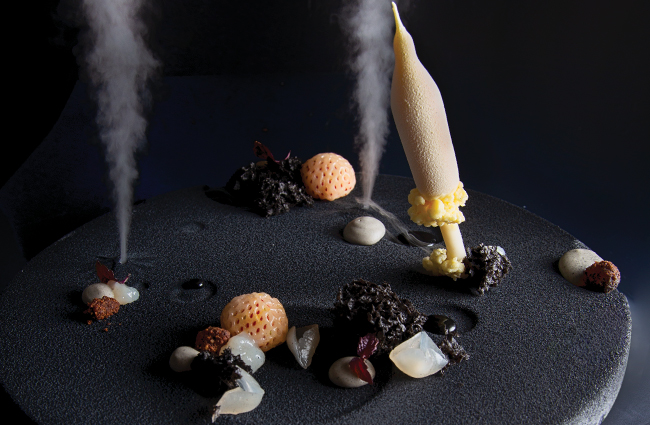 24 astronauts walked on the moon. Inspired by them we have created moon walk plated dessert.
Can we find food on the moon? Yes, we can! Try it out. You will find different structures like lychee, sake, black sesame and white strawberries. The ice lolly in the shape of a rocket gives a cold launch.
To style this dish we used a plate specially made for the world patisserie championships for the Dutch team. Be the first to prepare the Lychee sake yuzu ice rocket and then the other preparations. Start dressing the Microwave Sponge sesame and chocolate crumble. Then decorate with white strawberry and fresh lychee. Dresser the lychee gel on the plate and then the black sesame pastry cream. Serve the plate using dry ice and place the rack last.
INSPIRED BY THE SPACE FOOD
Space shot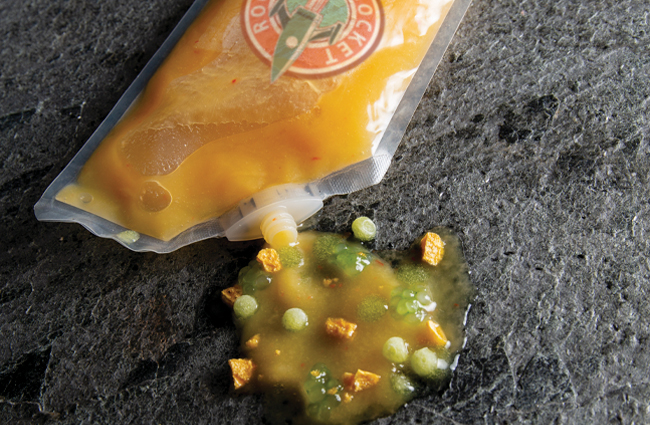 What does a spaceman dessert taste like? It has to be nutritious and extraordinarily delicious.
Alternating structures of tapioca, rocket salad, pineapple and pearls made of green apple and tarragon. Perfumed with crunchy passion fruit and red pepper. Served in a spatial package.
INSPIRED BY THE SUN
Fireball (entremet)
The sun, either fireball, is characterized by heat, fire and light.
The inspiration to create this entremets is caused by the features of the drink / shot ''Fireball''. The main ingredients are smoked whiskey and cinnamon. We have applied these preparations in different textures. The heat of the sun is reflected by the use of hot smoked paprika powder. The design symbolizes the glow and the warmth rings around the sun.
INSPIRED BY THE METEORITES
Meteorite (individual)
The meteorite is characterized by speed, debris from space and heat.
The challenge in this creation is to manufacture the meteorite design and an appropriate taste profile. We have made a combination of smoked pineapple, bitter chocolate mousse and stony tones in harmony with soft structures of white chocolate biscuit and lemon balm. Crunchy elements are crumble dough and caramelized hazelnuts.
INSPIRED BY THE EARTH
Planets (pralinés)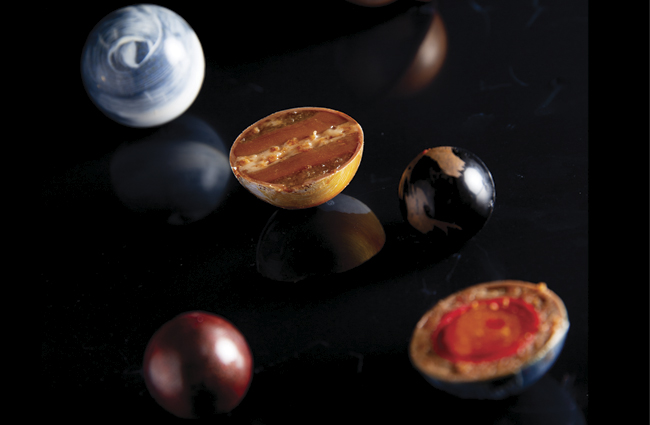 Earth is life. Colorful from the outside. Hot in the inside.
To create the praliné Earth, we have used varied colors. We have created a crunchy ring. The center of the earth consists of a liquid passion fruit red pepper gel.
Pecan praliné and passion fruit gel with red pepper.
INSPIRED BY JUPITER
Planets (pralinés)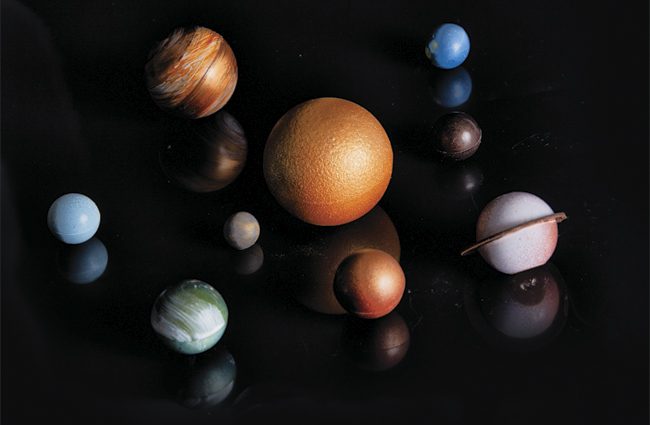 Jupiter is the largest planet in the solar system and is named after the supreme God.
The praliné is characterized by using varied ingredients like caramel, kalamansi ginger and almond in varied preparations. These powerful flavors give you a feeling out of space.
Almond praliné, kalamansi and ginger ganache and yuzu gel.
Discover the recipes of their entremet and individual cake in sogood #22