At fourteen, Graham Hornigold had his first professional contact with the world of baking and pastry at a local bakery in St Albans (United Kingdom). Since then and despite having also taken cooking courses, he was slowly directing his steps towards the sweeter side of gastronomy.
The Executive Pastry Chef of the international restaurant group Hakkasan, based in London, recalls those first moments when 'the heat of the kitchen and my temperament did not work in tandem' and finally "the pastry did win me over with the diversity of the mediums we have to entertain.' A variety of mediums which he especially values in a group of restaurants that has been concerned with developing autonomous pastry stations in all establishments, with pastry chefs leading the station in each of them. For this pastry chef, Hakkasan has a thoughtful concern for his team to work in all facets of pastry, from its more creative side to the execution of each dish, passing through control of stocks, dealing with suppliers, etc. He personally was concerned with energizing these pastry stations in each new opening in Mumbai, Dubai, New York, and thus up to 19 different restaurants which rely on a team of over 100 people.
However, in these pages we will take particular interest in the culinary offerings of the group in the city of London, where the Yauatcha establishments can be found, with a monographic pastry offer. Graham Hornigold works closely with his team to provide a strong European and French accent whose main purpose is to cleanse the palate and refresh the client after enjoying menus in which contrasts and ingredients with character dominate (wasabi, soy sauces, chilies, or roasted garlic, among others). That does not mean a lemon tart could not suddenly be starring yuzu or that a salted caramel be replaced with a miso one. Graham Hornigold summarizes his creative philosophy in two key phrases: 'fresh is best' and 'taste is everything'. Let's see how he does it.
Your pastry skills are French based, aren't they? How does this make the difference?
Having classical training as the foundation of our work is simply paramount. The majority of new techniques within modern cookery are a simplified often less appealing version of a classic, they work as a tool to create greater consistency. Though in my view some are to the detriment of not just the pastry kitchen but all forms of cuisine and the greater social makeup of the modern world, as they strip away skill! For example the simplest form of communication is talking, but who does it today? The same can be said of cooking and pastry there are so many shortcuts to producing various forms of gastronomy that classic understanding is being sacrificed for the sake of fashion. What chefs have forgotten is that a classic is that because it stands the test of time and can always be referred to whereas fashion comes and goes. Yes, embrace new methods but always maintain a classical understanding and build from there.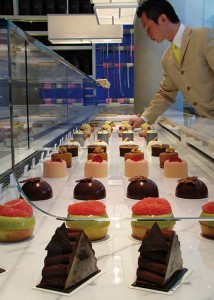 What's the Hakkasan concept like? How do you combine Chinese and Asian cuisine with Western elements?
Hakkasan Group has formed into a lifestyle brand, Nightclubs, day spa's and of course restaurants. The latter is my playground I oversee the patisserie offering for the group and each brand varies. The marriage of East and West is fairly straightforward, depending where you go within our portfolio you have Cantonese, Dim sum, Japanese or a Chinese banquet but you will always encounter European dessert and patisserie. This is for familiarity, as very few will risk something new. So for example we have a lemon tart, which we change out for yuzu or in place of salted caramel we'll adopt miso caramel. There are some properties of Asian cuisine which hugely benefit European; less sugar and light patisserie are to name a couple.
How do you conceive the creation and performing of the latest desserts at each of those places?
Hakkasan Group pastry is a collective of very skilled and motivated chefs, we all learn and move forward as one unit. The creation comes from all directions, all levels and all territories inclusive of USA, India, China and the UAE. Each head chef has a calendar of working towards menu changes and special promotions, and will ask their teams for their ideas towards this. The kitchen teams will then evolve the concepts to the satisfaction of the chef whom will then arrange an initial tasting with myself. I will critic and offer suggestion on taste, texture overall mouth-feel and finishing. Once I am happy and explained why we have come to this stage we will proceed to final tasting and approval from operations directors and the Vice president of Hakkasan Group restaurants Didier Souillat.
You will not just learn to cook and follow others ideas in Hakkasan Group pastry. You are openly invited to offer suggestion on menus and are placed from day one on the training programme to cover costing, recipe uploads, menu engineering, products and techniques are all available to build you into a pastry chef rather than a pastry cook
Do you gather your sweet proposals with the savoury team? Do all of you try to harmonize both Sweet and savoury offers?
With the dessert we always try the preceding dishes on the tasting menu or we will use chili sauce to taint the palette prior to tasting. My instruction to our chefs is that no dessert will pass myself unless all traces of the Asian dishes are eliminated within one to two spoonfuls maximum as our job is to refresh the palette and complete the meal. During development we invite the Asian kitchen to comment on the dishes, however we have mainly a free reign. We are challenged to accomplish our objective by the strong and powerful flavours found in some Asian cuisine but we have developed a method to make our dishes light censing and flavoursome.
Why would you recommend that a Pastry chef joins Hakkasan Group's pastry program?
Hakkasan Group pastry is designed from concept, implemented, driven and maintained by pastry chefs for pastry chefs, you have everything at your disposal to grow and develop into the real deal. You will not just learn to cook and follow others ideas. You are openly invited to offer suggestion on menus and are placed from day one on the training programme to cover costing, recipe uploads, menu engineering, products and techniques are all available to build you into a pastry chef rather than a pastry cook. We are seen in industry and design our kitchens and operations to attract and keep new talent for our expanding global portfolio.
Hakkasan Group's restaurant repertoire in London
Hakkasan Hanway/Mayfair: Cantonese cuisine which includes a ten-dish dessert menu. It combines starred dishes which can be enjoyed in the different restaurants all over the world –such as the fruit plate or macaron– and other seasonal dishes which vary every three months. Hakkasan desserts are designed for quick service as the restaurants are hugely popular.
Yauatcha Soho/Yauatcha City/Yauatcha Pâtisserie: Dim Sum-style tearoom in which a dozen of macarons, entremets and pralines can be tasted either there or as a takeaway.
Sake No Hana: Japanese-style food establishment where the customer's experience is more interactive. The desserts match this Japanese appearance, with other nuances without becoming mixed with other cuisines. Ice cream mochi, apple and miso caramel Tatin and dishes using Kobacha or black kurasato have been present in the past, alongside experimental and playful vegetable based desserts.
HKK: Both traditional and experimental cuisine, managed by the chef Ton Chee Hwee, who opts for small plates yet with intense flavors. In Graham Hornigold's words: 'Precise execution on traditional Chinese flavour married with Western cooking technique is what HKK is all about', and concludes: 'this a serious kitchen with progressive food and the pinnacle of Hakkasan Group restaurants.'
You will find these two recipes in so good #15