It is not just another pastry shop. It is a whole concept that emerges from the dialogue between two pastry chefs – Gabriele Riva and Kanako Sakakura. Both wondered where patisserie was heading and put their concerns on the table about the current moment in this sector. Their reaction became the underlying philosophical idea of LESS (Love. Earth. Simply. Sustainable) At so good #23 we had the chance to pay special attention on this.
Atelier LESS, located off of the JR train line in a residential and commercial area of Meguro-ku Tokyo, is based on five non-negotiable principles: Working seasonally with local producers and purveyors; minimizing all waste; focusing on sustainability practices; emphasizing organic ingredients and avoiding as much as possible processed, artificial colors and flavor compounds common in pastry practices; making sweets and pastry creations that are not solely reliant on refrigeration and freezers.
'We emphasize freshly made pastries, cookies, and special breads like panettone and pan d'oro, moving away from any dogmatic style of pastry, trends or fads. Eliminating decorations and visual elements that obscure the integrity of the product, its preparation and ultimately how it tastes.'
Gabriele Riva is a second-generation pastry chef from Milan. He made the leap to work abroad at various well-known pastry shops and restaurants in major cities of Europe and the United States. Currently Chef Riva specializes in innovative pastry that blends both traditional and modernist techniques and flavors. A noted chocolatier, he also has extensive experience and insight with mochi (glutinous rice dough) and many Japanese sweet and savory ingredients.
Kanako Sakakura is from Mie prefecture, Japan. An accomplished pastry chef, she trained at Tsuji Pastry School In Abeno, Osaka, and gained a deep understanding of the French pastry vernacular from living and working in France. Her time in Scandinavia allowed her to further develop production and management skills in various projects and at different scales. After working many years in fine dining and entering pastry competitions and presenting her own creations, it is a dream realized to open a pastry shop in Tokyo.
Riva and Sakakura also propose an interesting interaction with their customers at a space designed by Takafumi Ueno and Shuhei Yoneda for this purpose. 'We have observed how new customers who enter our shop come with expectations of what a pastry shop and pastry Atelier should be. So, we made a conscious decision in the design, display and programming process to subvert how one experiences our pastry and coffee in our space. We required something less commercial and certainly less hectic to validate our shared ideas and values. It does make for interesting discussions regarding our approach and the products we are serving. Just as our tastes evolve over time, we believe our patrons will evolve with us. We see LESS as a research incubator to experience the best of our craft and ideology", finishes Riva.
' We feel working with what is available seasonally, minimally processed and the peak of freshness is our idea of luxury'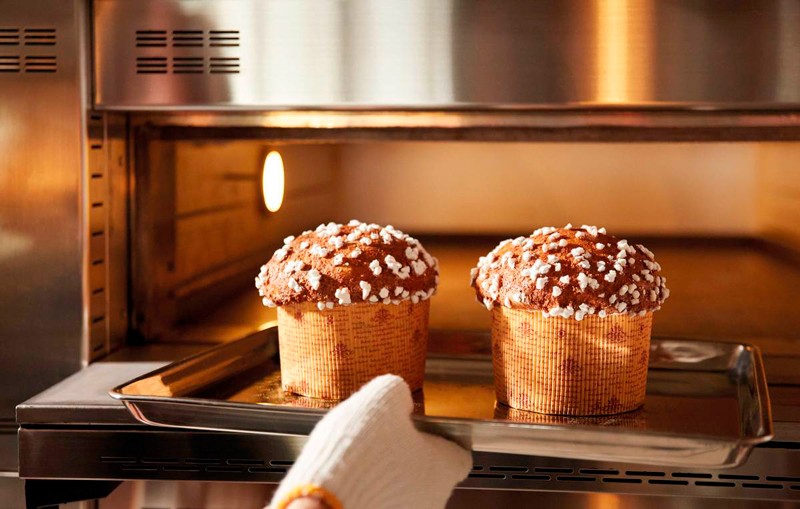 Why did you choose Tokyo?
Tokyo serves as a test bed for many of our ideas. The availability and quality of ingredients that can be found in Tokyo and neighboring cities anchors many of our creations. Our patrons appreciate pastry that is minimally processed using fresh whole seasonal fruits and the emphasis on quality of ingredients and technique is shared communal value. Also, I moved to Japan because I loved those Japanese ingredients even before I lived here full time and I wanted to work with those ingredients and use them fresh.
What is the balance of these first weeks?
The reception to our concept has been surprisingly well received. LESS aligns with many of our own values concerning freshness, respect for the local ingredients and therefore sustainability, flavor, proportion and by extension mirrors the same values of our patrons.
Could you describe your offer of products?
At LESS, the main product is panettone. We make three kinds: Citrus panettone using a combination of 3 or 4 Japanese citrus that we candied in house. Normally are fresh Yuzu, Lemon, Iyokan (Japanese orange) Sudachi, Mikan (Japanese mandarin) Kabosu, Amanatsu and some others as well. The second is Gianduja chocolate and Japanese orange and the third one is seasonal, and it changes according to what's available or we do create, for example like Sakura, Matcha with citrus and some others. The panettone I do here in Japan is 350 g because even 500 g is too big for Japan and would not be good. So I came up with this size that I think is perfect for here. 150-200 g for me is like a muffin and it would lose the texture and air pocket structure of the panettone.

'The panettone I do here in Japan is 350 g because even 500 g is too big for Japan and would not be good'
Our focus is freshly made pastries and cookies that are baked daily, using local and seasonal fruits and organic and sustainable ingredients. For example, if we use fresh citrus like the ones listed above, we use the zests, we squeeze and use the juice, and with the rest, that normally it is wasted and goes into garbage, we clean it, cook it and start the candied process and nothing goes to waste. This is an example of sustainability for us.
Less is always more? Are not excess and luxury the attractive things of pastry?
We follow the idiom that LESS BUT BETTER in terms of our pastries and confections. The idiom LESS IS MORE speaks of our philosophical approach to pastry making in terms of restraint and honesty. The notion of pastry being luxurious based on appearance is becoming passé. Using complex molds, glazes, sprays and all the colors available as you can find in an art store, does this make for more luxurious pastry? We feel working with what is available seasonally, minimally processed and the peak of freshness is our idea of luxury.
About the concept of working with local products only, can you find everything you need in your area?
Not everything we use is grown or available locally. For example, coffee, chocolate, vanilla and many other ingredients that we use are procured from purveyors that understand our needs. We work within a community to symbiotically support each other. Ultimately, we source as many organic and sustainable products as possible. Why for example using yuzu, which is being used everywhere in the world now, because it has become trendy, fancy and many times we do not use fresh citrus or other amazing ingredients we have available in our areas? We import ingredients from other countries only because perhaps we saw other professionals using them or because it is fashionable and catchy but maybe meaningless and many times not so connected to where we are and what we are doing. As I stated before, in my case, I moved to Japan because I loved those Japanese ingredients even before, I wanted to work with them, create by using them freshly.
'I moved to Japan because I loved those Japanese ingredients even before, I wanted to work with them, create by using them freshly'
Tell us a bit more about the creations that you present in so good.. magazine. What is the idea?
The products we make at LESS are a two-fold discourse. One, it is our notion of where we see pastry heading in the future: Focusing on the essence and skill of pastry making by stripping away many of the misconceptions and misappropriations of the current pastry ideology and pedagogy. We approach our creation with the following in mind: Rethink, Reduction, Restriction and Respect. Two, it is our honest critique of the current pastry climate and trends. The proliferation and use of artificial colors and flavors, frozen purées, additives and preservatives has become its own industry. The use of many of these processed ingredients are not sustainable and rely heavily on ready-made commercial and industrial solutions. We are not rejecting what our predecessors and contemporaries are doing. We made a choice to focus on our own evolutionary approach. Just as many contemporary savory chefs have sourced and foraged ingredients from their own terroir, and celebrating their new discoveries on their menus, we believe pastry chefs should do the same and more.
Discover these three creations in sogood #23
Seven apples Rose pie

Citrusy earl grey cookie

Sobacha tart