He was the first to talk about converting 'kitsch' into 'chic' in pastry, that is, turning the everyday into the exceptional, ugly into beautiful. He was also a pioneer in developing a solid theory about 'Gourmandise raisonnée', or what is the same, a more measured way of understanding sweet pleasure.
The great Frédéric Bau's new crusade focuses on more aesthetic aspects, more formal, but on which the very essence of the pastry craft lays. For Bau, the craftsman must exercise as such, use his hands to create his own style, because after all, this is what is expected of a craftsman. And to show that there is life outside the fashions that make everything uniform, this universal chef shows at the so good #18 the result of employing different techniques, some of pictorial inspiration, to obtain different results. And makes an invitation to imagine, to create, to think differently and to change perspective, to preserve the emotion.
Photos: Marina Castrillon
Portrait photo: Stéphane Bourgies
You are always ahead of the trends. How do you do it?
I don't know how to explain it, but for me, it has always been difficult to act 'usual'. Habits tire me, and life is too short to be ruled by habits alone. In my career, I have had the great opportunity to live and work with the most avant-garde craftsmen, such as Claude Bourguignon or Pierre Hermé, who have never accepted a 'not bad' and who have always had the goal of making our craft great. That has always been in their genes, and now it is in mine.
I have experienced the time when nothing was shared, no recipe, unless it was not correct, during my apprenticeship. It is not the way to make history and to grow. For 30 years, Valrhona has given me the opportunity and has given me the time to look far, not think of tomorrow but of the day after tomorrow. And concretely in the last fifteen years, this has become my mission. My job is to imagine and anticipate what our future will be like.
A Japanese proverb says, 'change your perspective to change perspective'. That's my way of thinking. Change the code, change the game, imagine the opposite, not to be different, but simply to prepare for future changes in life and in our trade.
Imagining the idea of 'gourmandise raisonnée' was because it seemed to me that we could no longer make cakes like before and that our recipes and our work patterns had to change profoundly. It is not roots, nor tradition nor pleasures that must change. We are merchants of happiness. But we must take into account the welfare of our customers. It is for me a kind of work ultimatum.
But I'm pretty confused to see the birth of certain fashions. The 'less sweet' or 'sugar-free' is the opposite of the 'gourmandise raisonnée', which prohibited nothing except excess. A recipe that is only less sweet becomes in many cases an atomic cholesterol bomb.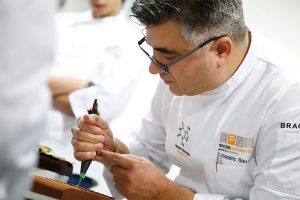 What importance should a pastry chef dedicate to aesthetics and the presentation of their cakes?
It is a big issue. We always buy with our eyes first. It's human. The challenge is that what has promised us with an impressive decoration does not turn into disappointment during a tasting. It is something that happens to me often.
Today I am very disappointed to note that because of social networks or rather, because of the use made of them, there is implacable plagiarism.
Where are the styles? Where is the talent? We are increasingly in a world of sheep, with very few creatives and hundreds of thousands of followers who simply reproduce.
Personally, I believe that all this world of mold and design is influencing artisans too much, seduced, sometimes for lack of time, with the idea of reproducing the same shapes, colors, etc. In my opinion, the craftsman must always cultivate his sense of what is unique, use material made themselves, and not use a common thread that makes everyone end up looking the same. This is the antithesis of the image of the craftsman.
I am also bothered by this ultra-colorful world that is seen in display cases. It is out of plane, reason and even pleasure.
Not to mention taste, which is in most cases extremely dubious. All this is outside what is 'gourmandise' and emotion.
Sugar has been the cornerstone for the brightness and the preservation of ultra-bright glazes that never come down, forgetting that it is an excess, without logical explanation, far from the reasonable.
Artisans should not forget that as Pierre Hermé says, decoration has no place in pastry. The gustatory aspects should be emphasized and be as transparent as possible. Decoration should be like a divine sauce on a fish or meat, that covers a preparation with delicacy, elegance, and character. Something we see very infrequently. But the best is yet to come. We must work with decorations and glazes as a gustative value added in our creations. In cuisine, this is a very talented craft that is called "saucier" or chef of sauces.
"I like transgression, fun. I like to dare. I love singularity, even at the risk of displeasing. I don't care. Better to go crazy than outdated"
Has the idea of manual craftsmanship been lost in pastry?
In fact, I believe that today pastry and chocolate making do not 'sufficiently' feel the hand of the artisan, with a minimal personal touch. It is not a question of using or not using new technologies, materials, etc., but of how the craftsman uses them. New techniques should be, on the contrary, an opportunity to overcome human limitations, but without losing soul.
I make an invitation to audacity and to reflect on being as singular as possible, and to preserve emotion, something of vital importance for us as well as for our clients.
Why do you think there is so much copying in pastry? Why is it so hard to have your own style?
Creating a style is something really difficult. In the first place, it must be something that you need, you want, something deep. It is not just an egocentric approach, but it should be a way of expressing, unique and very personal. Life is like this, there have always been creators and followers. It is indisputable. What is needed is that followers respect the intentions of the creators, and make reference to them, as much as possible.
It is appalling to eat some 'Hispahan' (creation of Pierre Hermé fruit of great work and hundreds of tests) made by other pastry chefs, who are far from the original one. It is not very pleasing to the creator.
It is necessary to reproduce with fidelity and quoting the creator: 'Homage to…', 'Inspired by…' or 'According to the creation of…'.
The artisan is usually responsible for his company and is increasingly overwhelmed by the tasks of administration, business management, etc., while they dedicate less time to create. There are some who impose on themselves an obligation, at whatever the cost, to spend time creating, imagining, testing, re-testing, because it is vital for them.
It's like those who force themselves to play sports. I have never done it, it embarrasses me!
"The craftsman must always cultivate his sense of what is unique, use material made themselves, and not use a common thread that makes everyone end up looking the same. This is the antithesis of the image of the craftsman"
Should the pastry chef or chocolatier incorporate aesthetic fashions into his pastry shop or should he always follow his own style?
I am not convinced that the artisan should give way to fashions. On the contrary, I think the customer really expects his artisan to have a different, unique style, 'just for them'.
The craftsman, big or small, must know how to take risks, because not everything always works, even in large establishments. Give time to time.
One or two Saturdays in the store are not enough to make a creation a success, it takes months, even years, for the great creations to become part of the image of a pastry shop. Both in the aesthetic and in the gustatory, I believe that the consumer expects and more and more to be surprised. 'Wow.'
Can you tell us about the techniques of working in chocolate like pointillism or the thermal shock that are used in the cakes that you present in so good.. magazine?
Des mains de Maîtres' is a desire to pay homage to chocolate in the decorative universe, and invites professionals to imagine and think about their own decoration. In this exhibition that I have created and shown around the world, I have been inspired by great painters and sculptors, but more in techniques of work than in styles.
I am not a connoisseur of art history, it is not in my education, but I am sensitive, and art and design inspire me a lot. But I do not like to imitate. You cannot imitate the works of Van Gogh, Monet, Picasso or Soulages. But it is interesting and very exciting to see how painting techniques can influence our creations and decorations.
I am at a stage in my life in which I need to pay tribute to the nobility of chocolate, without disguising it, to show it with its virtues and its defects that sometimes become its best qualities.
This also means being able to think the unthinkable, like dipping chocolate in ice water. Yes, in water, your worst enemy, who nonetheless becomes your best ally.
I like transgression, fun. I like to dare. I love singularity, even at the risk of displeasing. I don't care. Better to go crazy than outdated.
I like to feel useful in my craft, to serve its passionate actors who are the artisans of the whole world.
Thanks to Alberto Ruiz for echoing this invitation to imagine and think about decoration in another way. I hope this reflection will seduce you and inspire you in the pursuit of your own style.
Vive la douceur, l'émotion, et la gourmandise… raisonnée!