In Dolç (Sant Cugat, Barcelona), the French pastry chef Yann Duytsche offers gastronomic, sweet, freshly made pastry with intense flavors that avoids being experimental and overly sophisticated. They are real recipes that are daily and continuously put to the customer's tests, customers who come again and again.  An establishment that you can get to know in detail thanks to the book, A Week with Yann Duytsche, published by Grupo Vilbo.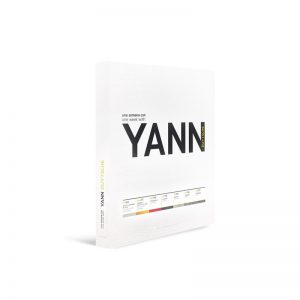 In-depth look into a gastronomic pastry shop
If the perfect pastry shop existed, it would look a lot like Dolç by Yann Duytsche (Sant Cugat del Vallés, Barcelona). Understanding it as the perfectly friendly and immediate service of a product of the highest quality, freshly made and with its distinct character. It is therefore a gastronomic concept that is more like the operation of a restaurant than with that of a classic pastry shop.
The architect of this unique establishment is called Yann, that's how everybody knows him, and his last name is Duytsche, a French pastry chef from Lille who fell in love with his trade when he was only 8 years old when he visited his uncle's workshop,
"I loved observing what happened there, to see how three or four ingredients were transformed to create a new product, for me it was something surprising, magical ".
Led by this irrevocable vocation, Yann Duytsche enters École Hôtelière du Touquet-Paris Plage, since at that time there was no pastry teaching center with a complete training program. However, this experience would end up being extremely enriching since it allowed him to learn about other "métiers de bouche" (food trades). He ended up at the Grand Hotel Clément (Ardres), with a Michelin star, the highest restaurant in Europe (Hôtel Fitz Roy), of the Loubet family, in the Alps, as well as the Hôtel Châteaux Tilques. But his great schooling was at chef Roger Vergé's Moulin de Mougins (3 Michelin stars), the precursor of nouvelle cuisine and father of the slogan "the chef's success begins in the market". At the Moulin, the young Yann served as second in pastry and discovered the sophistication of cuisine, the Mediterranean and its cuisine, the richness of Provencal cuisine, a respect for flavors, and the search for nuances.
"I always tell young people that going through restauration opens up many gastronomic possibilities, more knowledge, more resources, more freedom, more criteria, and more ideas when it comes to combining ingredients and flavors," says the chef.
In this learning process he never lost sight of shop pastry. Thus, he had the opportunity to be in, among others, the Baixas workshop in Barcelona and the Daniel Giraud workshop in Valence (France). During this time, he met Frédéric Bau, who asked him to join his team at L'Ecole du Grand Chocolat in Valrhona. "I arrived with the intention of being there for two or three years and in the end, I stayed for twelve years teaching, researching, and learning. I think you have to be seduced by the opportunities that arise. It was an enriching time that has aided me later on. It takes time to be the person you want to be, and that phase made me mature professionally and personally. My ambition was always to be in direct contact with the final consumer. I needed to evaluate myself and see if everything I was researching and creating worked among consumers. We can say that I went from making prototypes to products that people bought and consumed. I needed to form a team and put what was interesting to me in my display case", adds Yann.
Gastronomic pastry
Therefore, all the experience and knowledge accumulated during many years of training became the best weapon to offer his customers a personal, artisan pastry, which Yann himself calls "gastronomic". The word pastry does not appear because, in the words of the author:
"Dolç better defines what we do here, to work with what is sweet with a gastronomic sense. It is a term that, in my opinion, transmits sensitivity, emotions, is an adjective that contains many things, and at the same time defines my professional identity ".
And, as we mentioned, the establishment works more like a restaurant than a pastry shop, "if the customer is going to eat the millefeuille at 3:00 PM, I want it to be made at 1:00PM at the earliest", says Yann. This forces him to maintain a team of 8 or 9 professionals active, a team which is distributed daily in morning and afternoon shifts, but at the weekend they come together to cope with the increase in work. From Monday to Friday stocks are being replenished and, above all, mise en place is carried out for Saturday and Sunday, days where 80 percent of sales are concentrated. "I want us all to be there and until the end of the sale. The team does not leave on Sunday at 11:00 AM, because the service we offer requires being there until the end of the day. "
Willingness to learn, professional attitude, curiosity, personal demand, and the pursuit of excellence. These are the qualities that Yann demands of all those who want to be part of his team. "We teach everyone who arrives the raw material and the methodology with which we work. Accuracy when weighing and mixing, cleaning, order. If you have to make a cake, first you have to prepare the rings on the tray, start the oven, weigh the ingredients well … The method is essential. I always tell them that the recipes have a text next to them that you also have to read before you start. And when one is finished, there should not be any trace of it being made there, the table should be impeccable before beginning making something else", says the chef.
Everything is particular
The objective is to maintain a cohesive team that works in perfect harmony to convey a common idea. In the words of Yann himself, "it's a type of pastry that you have to explain because everything is particular. We make, for example, a millefeuille, but instead of pastry cream we fill it with a vanilla supreme. Then we try to let the client know what a supreme is and what is special. In the end, they realize that there are different ways of understanding the sweet world, and this is ours. "
"I want to give value to the team so that they feel they are a fundamental part of Dolç and that they can represent the house even though I am not there at that moment. I want there to be no barriers between the shop and the workshop. We have even taken out the door between the two spaces."
"They are not two worlds, there is just one, which is Dolç. The person who is producing can also go out to sell or advise a client. This way, no information is lost between the shop and the workshop, and so the pastry chef sees the customer's face, knows the recipient of what he is going to make. That makes everything come out better. People see us work from the outside, see that there is life and if you know that the client is watching, your work is cleaner and done with more care".
Good time pastry
And in that environment of motivation, commitment and professionalism, it is not strange that there are customers who say, "we know that you have a good time because it shows in the product". In this sense, the necessary balance between discipline and fun is clear to Yann, "we try to have concentration and seriousness in everything we do. When I see someone who is scattered, it does not give me security. And at the same time, it is essential that the members of the team be at ease, that they have the hours they need, that they work with the necessary means, values, pamper the surroundings and the environment so that they feel good, because this will be reflected in the final product. We are craftsmen and we have to give soul to the product we make, something that is a lot more difficult for the industry", he concludes.
In A Week with Yann Duytsche, you will find more keys to the philosophy of the Dolç's workshop, as well as about sixty of the products produced there weekly, from tea pastries to cakes and mousses, ice creams, cups, bonbons, travel pastry, confectionery, snacks, and plated desserts. All products are properly grouped and can be consulted by days, as the week progresses in the book.