In Miette et Chocolat, the French pastry and chocolate company located in Aurora (Colorado) that Gonzo Jiménez directs alongside David Lewis, very fun campaigns and proposals are made, different from what Americans are used to seeing, like the chocolate pieces in this Easter collection that look like museum pieces. Jiménez starts from the basis that "the world of chocolate and art go hand in hand, taking into account that chocolate is very noble organic matter and an excellent means to express our ideas and concepts".
His creations, he assures, are influenced by nature and things he sees during the ultramarathons he runs in the Rocky Mountains. "I also gain inspiration from architecture and industrial design that I see on my journeys when I travel to teach courses and classes," he adds.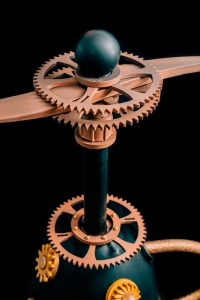 Regarding the assembly and creation process, Jiménez uses different techniques. Some parts are molded, others are sculpted with flexible chocolate or simply carved by hand. "I also have the support of technology and different machines that I have acquired in recent years, such as thermoforming machines, which allow me to create my own molds. In addition, I have experience creating silicone molds, which gives me the possibility to create my own molds with other materials ". When it comes to painting, he always uses precision airbrushes and good cocoa butter dyes. And, depending on the piece, "we end up polishing the last layer of cocoa butter with microfiber cloths or we just leave them opaque".

After studying pastry and cooking in Buenos Aires, Gonzo Jiménez worked for five-star hotels and renowned chefs in Argentina. From 2009 to 2013 he moved to the United States and gained experience in large hotels such as St. Julien in Boulder, CO and The Hyatt Corporation in New Orleans and New York, while creating his own line of chocolates. Back in South America, he joined the Grand Hyatt Hotel in Santiago de Chile and shortly after joined Barry Callebaut as corporate chef and director of the Chocolate Academy of Chile.