Photos: Corina Landa
Albert Adrià's circus counts on a new ring opened a few months ago named La Dolça ('sweet' in Catalan), alongside Tickets Restaurant and occupying the space of the previous 41º. This creator's fantasy became a reality in the form of patisserie, a discipline that is engraved in his professional identity since his inception in elBulli. Whoever buys the ticket for an unforgettable show now has the possibility to attend a final number, a sweet climax in which, as in the rest of the function, magic and fun dominate. We never lose a single gram of gastronomic seriousness.
In this illusionistic space we find Albert Adrià, attentive to all, aware of everything, thinking about the 120 people who will come to dinner tonight and have fun. David Gil and Enric Monzonis are his eyes and his hands in the sweet station.
Is it not a risk that the public not take the gastronomic offer seriously in this playful and festive space?
I'd say it's the other way around. Just as the gastronomic offer is very serious, we can allow for a casual look. With what we do in Tickets and La Dolça we can say that we are playfully serious. At 45 and with 30 years in the profession, I think we have already reached the maturity to know what we do. It's like when I speak of molecular cuisine, classic cuisine, or this or that cuisine. Look, there are two types of cuisine: good and bad. We try to create good cuisine. We try to create serious cuisine under a playful look. Here people come to have fun, so we give them fun.
Why La Dolça? Why create a separate space for patisserie?
It is the logical evolution. What the 41º used to be frees up space for my own path and my relationship with patisserie had to be devoted to desserts. It is the end of the customer's experience when they come to Tickets. The idea is to transport the customer to childhood, to the world we experienced at eight years of age and that in many ways we should not have left.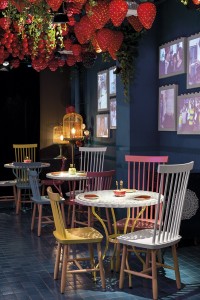 How are the sweet and savory offers connected?
Through language. At first it was difficult. We had the language of tapas, but no that same language applied to the field of desserts. So what I wanted was to unite both languages. And that is what we have achieved. Excitement is found in two or three bites. We are looking for something that no one else does, neither in the product itself, nor the way of creating it or the way it is eaten. We want people to come to that, to experience something they cannot experience anywhere else.
We have about 10 desserts in the menu, there are always a couple of chocolate, another made of fruit. I like to say that I am neoclassical; I am interested in maintaining bases which we can then change. I don't want to worry too much about having to do different things in a mandatory way.
What is reminiscent of elBulli's desserts?
I don't want to look back, we exceeded that stage of transition in which it was difficult to detox from elBulli and break with an entire past. Meringues, sands, mimicry, Natura, all that is no longer necessary… We make the beet dessert, for example, but it is not mimicry. The product itself is the packaging, but it does not imitate or mimic the beet as we would have done at that phase in elBulli.
If I were asked what patisserie at Tickets should be, I would say the way it is now, exactly that way. Now I feel comfortable with unfinished concepts, something that did not happen before, and they evolve as we evolve. La Dolça has been open for a few months and is not yet finished. We have a lot of crazy things in mind which go much further and that will be coming. I'm not worried, we will begin filling, and we will grow, evolve and find the language we want.
Are you interested in finding a kind of balance between what is pleasant and what is healthy?
I care a lot. I go through this myself as a diner when I go to other places. I care that people finish eating and are well. I think we make healthy cuisine, we have banned juices, reductions, concentrates, I don't care for any of those things… We want people to get to the end of the meal fine, we control fats, sugars… it's the trend… 50% of the public in Tickets are foreign, and they already have that sensibility.
We are playfully serious
Is the show that is Tickets and La Dolça fit for all audiences?
The spirit is daring, fun, tapas, and noise. The creations are delicate and meticulously made, but without losing the fun… What is clear to me is that I don't want to make things for a few, I don't want to work for 20 diners if there are 120 coming for dinner every night. This is not elBulli, this is Tickets, and so I like to believe that the 120 that come tonight are going to have a great time. You have to be very good to offer a closed menu without the client being able to say a word… somehow you are buying their time… The price should be put at the end, depending on whether the time was worthwhile or not. At Tickets we put the beginning and the customer puts the end.
David Gil
Born in Vic in 1990, at only 14 he began showing interest in cuisine in his town's restaurant where he worked on weekends. He began his professional experience in fine cuisine at the age of 16 in the restaurant with Nandu Jubany. His career path alongside Albert began in 2012 as pastry assistant at Tickets, but soon surprised Albert with his restlessness and creativity. He has helped in the planning of the Natura line of Torrons Vicens and currently is head of production and creativity of the elBarri group's restaurants, as well as in charge of the sweet part of the Heart Ibiza project, the Adrià brothers' new venture with Cirque du Soleil, which begins this summer 2015. At his young age, he has already done stages in Le Calandre (Padova), Michel Bras, and in Mugaritz, among other places.
Enric Monzonis
Enric was born in 1989. He started playing rugby at the age of 13. He combined rugby and cuisine until he was 23; he even played in the Barça team. He finally opted for cuisine. He studied at the CETT (Barcelona) in 2006. He specialized in pastry when he joined the Hofmann School, and eventually worked at its pastry shop. He completed his training with Eric Ortuño (Hofmann), Yann Duytche (Dolç) and Josep Maria Rodríguez (La Pastisseria).
After these experiences, he decided to experience working in a restaurant and joined the team at the pastry station in Abac (Barcelona). Two years later, he entered Tickets as chef de patisserie.
You will find new and amazing desserts arising from the inventiveness of Adrià in so good #14