"Paying off a debt", is how Xavi Donnay begins his book "Mini", published by Books For Chefs and which he is presenting these days. It is the first great pastry book entirely dedicated to small-format pastry, everything that can be done in three centimeters in diameter is passed through the author's filter and turned into a contemporary sweet of great beauty. The one who was distinguished as 2020's World's Best Pastry Chef (Best Chefs Awards) displays an ambitious repertoire of contemporary creations that want to settle a debt, that is to say, fill a gap on the petit four in terms of published material, a typical restaurant product but in the hands of the author is equally valid for an assortment of pastries, afternoon tea, a sweet table, or even to serve different impulse pastry options.

Throughout 350 pages, the book presents more than 65 creations grouped into eight great families. It is a wide enough repertoire to demonstrate the many possibilities of working in just three centimeters in diameter. Virtually any idea or classic pastry product can be taken to this extent. It is simply convenient to take into account how to adapt it without giving up its potential, on the contrary, in many of the creations proposed by the author, the product is sublimated and reaches its maximum expression thanks precisely because it is a delicate jewel of small dimensions.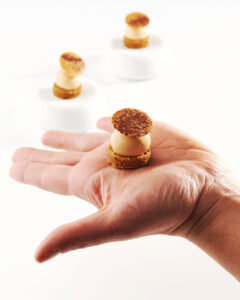 Like a good goldsmith, Xavi Donnay meticulously attends to the great families of petits fours, be they sablés, bonbons, macarons, or petit-choux, but with a contemporary and innovative look that allows recipes to evolve, add more elements to each product, and turn its presentation into small works of art

The author also serves audiences with special needs by incorporating options that avoid certain ingredients and innovating many proposals with technological ingredients. The great pastry and confectionery classics are adapted to the bite-size format with impressive versions of Mont Blanc, the Black Forest, Saint Honoré, or French toast, among many others. The most incredible trompe-l'oeils, which in many cases have made the author famous in past years, are included in the corresponding families, whether it is a pineapple, a beetroot, a pumpkin, an ear of corn, or an avocado.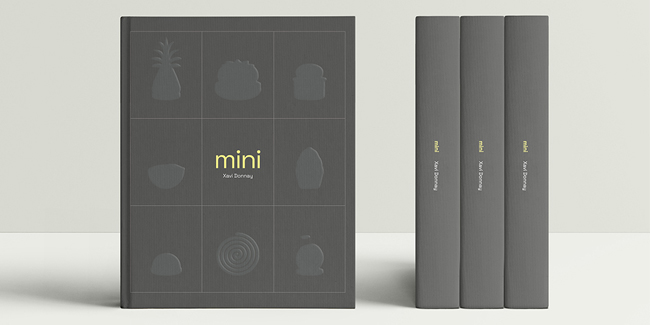 Illustrations in real size and groupings by criteria

Xavi Donnay and Books For Chefs have carefully crafted the book. Each one of the proposals is detailed with photos by Jordi Foto, a technical and conceptual presentation, detailed elaborations, assembly and even an illustration that allows a better appreciation of the real size of each product. At the beginning and at the end of the book there are different indexes and tables that allow you to consult the content more comfortably as well as appreciate the effort made to address as many options, ingredients, and techniques as possible.

The content is distributed in eight great families:

Sablés
The crunchy bases are the starting point of a series of bites that include a main element and an attractive decoration. In this family, a way of working is systematized that serves very well to develop trompe l'oeil, colorful and glazed products and proposals with fresh elements in sight.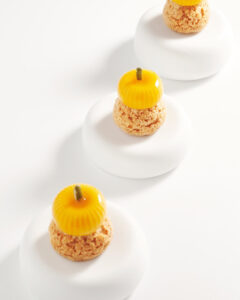 Cakes and macarons
Classic products such as macarons are revisited by the author to come up with totally renewed presentations and with a special gastronomic sensitivity. Here we enjoy the mythical mimetic cherry that actually emulates the classic of the black forest.
Choux
One of the most traditional pastry families, which Xavi Donnay treats with respect and skill but also with the ability to achieve surprising finishes.
Bonbons
Passionate about bonbon-making, in this section the book demonstrates the many possibilities of renewing formats and presentations.
Giandujas
A nut, a chocolate and a third flavor are usually the substrate with which the author deploys different creations, each more original, which sometimes surprises with the realism of its designs and convinces with the gourmand character of the chosen flavor combinations.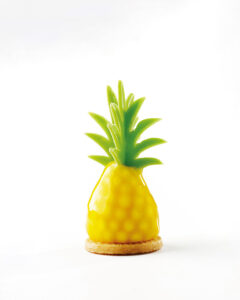 Free
The growing demand for products free of allergens and other ingredients is the subject of a chapter that uses both confectionery classics and innovative ingredients to offer interesting alternatives that in no way renounce the commitment to quality and full flavor.
Classics
Xavi Donnay's favorite universal cakes are adapted to the snack format with memorable results, whether we are talking about cannelés, xuixos, torrijas, or even millefeuille.
Unclassifiable
As a small catchall, the author completes his mini tour with some chocolate, savory references or claiming ingredients such as maltodextrin, inulin, or even bicarbonate.
Up to 65 creations review all the current possibilities of this type of pastry. A journey that not only collects the author's creations but also includes the visit of renowned professionals who join the mini format party with their talent and personality. We refer to Miquel Guarro, Martin Lippo, Saray Ruiz, Eric Ortuño, and Jean Siviuede.

In short, an ambitious first book by the author that brings small-sized pastry to the fore and showcases the many possibilities of this format.