Julien Dugourd, pastry chef at La Chèvre d'Or, a mythical Côte d'Azur hotel and gastronomic restaurant crowned with two Michelin stars, is a model of resilience for young pastry chefs. He was born without a diaphragm and until he was ten years old his life revolved around hospitals, an experience that forged his vision of existence centered on the maxim, "Live each day as if it were your last".

In his book, "Mes Pâtisseries, mon parcours, ma résilience", available at booksforchefs.com in French, he reviews his career based on interviews with his mentors and 60 iconic sweet creations, ranging from pastries to confectionery to plated desserts.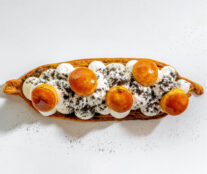 With texts by the food journalist Leslie Gogois and photographs by Philippe Vaurès Santamaria, this book is divided into five sections. The first is dedicated to his childhood and apprenticeship (1983-2004), and includes testimony from Michel Philippe, head of l'Hostellerie des Bas-Rupts, where Dugourd began his cooking apprenticeship, and dessert recipes that remind him of his childhood like Le Vaucluse, a version of Proust's Madeleine, or a Noix de coco in tartlet format.

The second chapter focuses on his time at Louis XV at the Hôtel de Paris in Monaco (2004-2007), to which he owes his unconditional love for pastries and his discovery of techniques such as cooking roasted fruit, as he hints at through recipes for croissants, pains au chocolat, or Ananas rôti, and the words of Pierre Foucher and Lilian Bonnefoi.

His time at the Plaza Athénee Paris (208-2010) and his admiration for Christophe Michalak is reflected in the third chapter, with desserts such as Le flanXy, Le Fraisier, or La Noisette soufflée. Next, Dugourd recounts his beginnings at La Chèvre d'Or en Èze (2010-2018), synonymous with hard work and fulfillment, with words by Gilles Bragard and creations such as Le Bubble Mojito and Le Capuccino. And finally, the chef dedicates his last and fifth section to 'today and tomorrow' (2018-2021), with words by Olivier Bajard and iconic recipes such as the Lotus trompe l'oeil.