To talk about the Ritz Paris is to talk about tasty and irresistible pastry: a honey Madeleine, poire en cage, caramel boat.  A pastry that can now be experienced in detail thanks to its chef François Perret, who invites you to take a gourmet tour of the legendary hotel through the book "French Pastry at the Ritz Paris". The book, published by Éditions de La Martinière, is available in English at our Books For Chefs online store.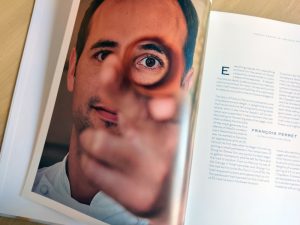 Through 60 recipes, photographed by Bernhard Winkelmann, it proposes a tour of creations designed for the first hour of the day to the great evening desserts at La Table de l'Espadon, by way of pastries and cakes in the Salon Proust, and a thousand one feasts around the clock. And as the final icing, his favorite dessert: the marbled cake presented in a beautiful box with the name of the legendary hotel stamped on it, perfect for enjoying at any time of the day.

Born in Bourg-en-Bresse, Perret moved to Paris to learn the trade at the most prestigious institutions: Le Meurice, the George V, and the Hôtel Lancaster. In 2010 he participated in the opening of the Shangri-La Hotel Paris and later joined Chef Nicolas Sale at the Ritz Paris. Since reopening in June 2016, both have contributed to the gastronomic renown of the hotel, achieving two Michelin stars for La Table de L'Espadon in the first year and one for Les Jardins de L'Espadon. François Perret has been distinguished as Best Restaurant Pastry in 2019 and has also starred in Netflix France in the program "The Chef in a Truck".