Opened nearly 20 years ago, the Burj Al Arab in Dubai is one of the most luxury hotels in the world, considered the best of the best. It has also been called "the world's first seven-star hotel" by numerous travelers and luxury travel critics.
Shaped like the sail of an Arabian dhow ship and built for $1 billion, the hotel is full of extravagances. The Burj al Arab is as much a symbol of Dubai as the Eiffel Tower is of Paris or the Opera house of Sydney. It represents Dubai's economic boom and orientation towards the future.
I stayed at the hotel on my last visit to the Dubai World Expo and the Gulfood show. I was overwhelmed by the amount of gold and marble that any reasonable person would expect to see. The Burj Al Arab impresses through the sheer force of its vision of luxury.

I wanted to get to know the pastry chef of a seven-star hotel and find out what it is like to work at the most luxurious hotel in the world, so I contacted chef Tom Coll for an interview.
Chef Tom started working at the Burj Al Arab in October 2021, bringing his expertise and possessing great qualities to do great things. He has a very rich pastry background which has allowed him to evolve to very high levels of excellence and high standards in the different hotels and restaurants that he had the opportunity to work at next to some of the best chefs from France.
His mission is to bring his personality to his culinary creations for the Burj al Arab's high elite clientele."I am very happy to create new desserts for our customers".

Being his first job outside Europe, chef Tom Coll has integrated well inside the culinary team that runs the food and beverage programs. Here is what we talked about.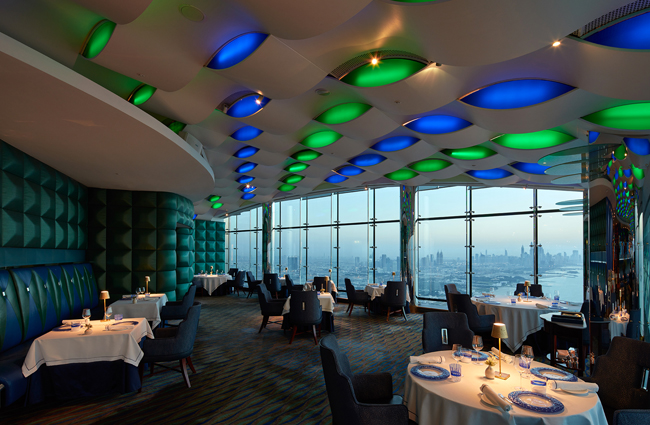 When did you decide to become a pastry chef and why?

I learned and developed my pastry art through many schools and internships. I have been to "CFA de Groisy" in Haute Savoie at school and at Peyrerol pastry shop. I was working for two weeks at the pastry shop and one week at the school.
I then studied different diplomas like pastry, confectionery, and chocolate orientation. CAP pâtissier for two years, CAP Chocolatier for one year. To finish, the last diploma I obtained was «BTM Pâtissier Glacier confiseur» in two years. I was working at Plaza Athénée with Christophe Michalak and Jean-Marie Hiblot.
What inspires you to create new desserts?

Everything comes from the taste, and the emotions I want to share through the dessert.

Name three of your mentors and explain why you named them?

Gilles Peyrerol was my first experience and the first pastry chef I met. I will never forget him.
Jean-Marie Hiblot, besides the fact of being an excellent pastry chef, he was the best person in management I have worked with. A real source of inspiration. He is a spiritual father for so many from the Plaza Athénée team.
Lilian Bonnefoi and Etienne Leroy. Etienne Leroy was preparing the pastry world cup at the Hotel du Cap Eden Roc, and Lilian Bonnefoi was the executive pastry chef, and both led me to confirm my love for working in a luxury hotel.
Michael Bartocetti, the chef with whom I worked the most, for four years in Shangri La Paris, and I really admire his knowledge about ingredients and technicity.

Why did you decide to work in Dubai?

I never worked abroad even though I had many opportunities, but when Burj Al Arab reached out to me and told me about their vision, I instantly understood the potentials and the values of the place.

Could you name some of the challenges you face every day at work?

The biggest challenge I face every day is to be able to personally control the quality we are executing every day. Forty-two bakers and pastry chefs are a lot to manage.

"Forty-two bakers and pastry chefs are a lot to manage"
How demanding is to be the Pastry Chef of the only seven-star hotel in the world?
Being the executive pastry chef of the Burj Al Arab is exciting, being in charge of so many outlets, each of them with a very specific DNA, like fine dining restaurants, breakfast, beach club, afternoon tea, events, private dining, Arabic restaurant, and more.

How do you manage your stress?
My team helps me a lot to control my stress and execute the operations well.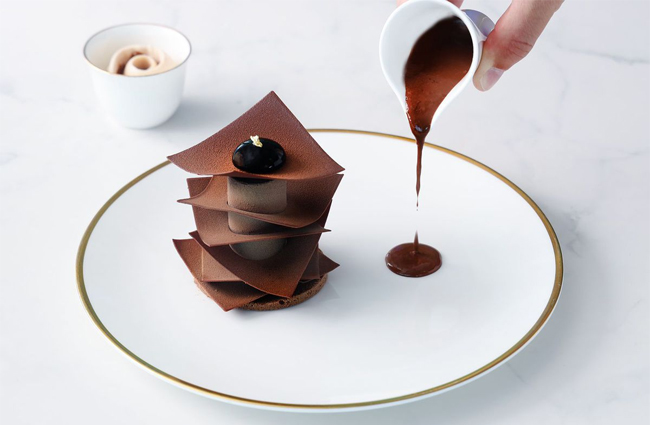 Could you explain a normal day for you?
Every single day is different in Burj Al Arab, each guest has different expectations, which is the reason for my passion about luxury hospitality.

What do you miss the most from back home?
Without a doubt my family are the ones I miss the most.

Have you ever made a crazy amenity for the guests that stay at the Burj Al Arab?
My team and I created 250 mini Burj Al Arab in chocolate, individually shaped and assembled one by one by hand.
"Every single day is different in Burj Al Arab, each guest has different expectations, which is the reason for my passion about luxury hospitality"