The passion for chocolate has been engraved in him since a young age. His ilimited creativity and great experience make him an ingenious, methodical and thoughtful person. Chef François Galtier is a great master in his craft. I had the privilege to attend one of his demos at the GulFood in Dubai this past winter, and his professional knowledge and explanation of how to use the products he uses to make his pastries left everyone in the audience wanting to learn more from him.
Since he won the Bronze Prize of the World Pastry Cup in 2009, Chef François Galtier's technical advice has been very much in demand: he has coached several national teams and has worked as a pastry consultant around the world.
In search of perfection, he's always looking for new flavors, new textures and new ideas. His talent goes beyond the imagination. And his pastry comes to life thanks to the hyperrealism and artistic sense of his works. Welcome to the animated world of Monsieur Galtier at so good #28.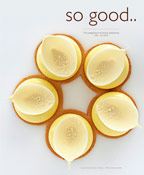 Where were you born and how does this influence your career choices?
I'm French, from south-west, exactly from a little village called Saint-Christophe Vallon in Aveyron region. It's really the French countryside, where the food and traditions are a big part of the culture. I've known since I was 8 years old that I wanted to become a baker or pastry chef, because at this age I understood that we can give real pleasure to people with food, and I loved it. My parents wanted me to study, and the school pushed me to study drawing because I was very good at that, but I decided to follow my dream on food, and my parents supported me. Then I studied how to cook for two years to have general bases at food and decided to continue with pastry learning for 2 more years. I chose more pastry than bakery to express my art of drawing with decorations.
Could you describe your pastry background?
I spent 6 years at the association of 'Compagnons du Devoir' to study pastry, which is a kind of school for hand-craft jobs only, where you learn by travelling and sharing the knowledge. Each year we had to move to different cities or countries and learn their specialties, meet new people, and work in different pastry shops. In 2006, I decided to stay in Belgium to work as technical advisor and demonstrator for a company producing pastry ingredients. I did it for 7 years and I created my own Brand 'KKO Belgium' during this period also, in 2008, with my business partner David Redon. In our little factory, we produce chocolate bonbons, chocolate spreads, gluten-free chocolate cookies, Chocodecor (chocolate paste to use for decoration instead of sugar paste). After these 7 years, I added pastry and chocolate consulting to the business of KKO Belgium and I started to make demonstrations, masterclasses, pictures and recipes, and coaching for pastry competitions. My last competition as a participant was the Pastry world cup 2009 in Lyon with the Belgian team, where we won the bronze medal, along with my two team members Raphael Giot and Alain Vandersmissen!
Striving for perfection, I'm always looking for new flavors, new textures, and new designs to create emotion with my recipes.
Why did you decide to become a technical advisor?
I decided to do my own consulting because I love sharing my passion and philosophy of pastry with other chefs. My overflowing creativity and vast experience make me ingenious, methodical, and thoughtful person. Striving for perfection, I'm always looking for new flavors, new textures, and new designs to create emotion with my recipes. Those who know me can affirm that I live my passion for sweet gastronomy fully!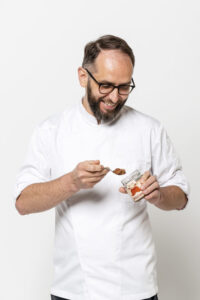 Where do you think we can find the best chocolate in Europe?
I don't believe there is a specific place to find the best chocolate in Europe, it depends on the approach and philosophy of the chefs, but also on the taste of the person. From my criteria, I like chocolate bonbons of French style, with a melt-inmouth texture, thin shell, mainly enrobed, intense taste, not too sweet or too fatty… It's also our target for our chocolate bonbons at KKO Belgium.
Name three pastry chefs that helped you become the chef that you are now and why?
Michel Varin: He was my Master learning for 2 years when I started pastry and he shared and transmitted to me all his passion and love for pastry. I enjoyed this experience so much because he gave me the bases of pastry, teaching me all of them in details. Philippe Depape: He introduced me to the job of technical advisor. I learnt with him how to do demonstrations, masterclasses, pictures, new creations, how to explain recipes and techniques… He truly believed in me. Fabrice Gilotte: I've never met him personally, but he's really my model as chef. He really makes the match of very high quality, with mass production. He has intelligent and smart thinking when it comes to the production method, creating some machines to meet completely the objective of top quality but reducing the cost of production. He's also, along with all his team, very creative and innovative about packaging, marketing, and concept of products.
'I'm always looking for new flavors, new textures, and new designs to create emotion with my recipes. Those who know me can affirm that I live my passion for sweet gastronomy fully!'
How do you come up with different pastry ideas and creativity?
My inspiration comes from my life in general, something I have seen, somewhere I have been to, somebody I have met… I've loved illusion cakes since many years. One of my signature cake was the clock in 2012, now we can see a lot of chefs cakes inspired by this clock cake, especially for the New Year. I love it when the cake gives a message or says something about my life! I like my creations to be alive, using textures to give even more illusion. My trips around the world also give a lot of inspirations on tastes, ingredients and combination of tastes. I describe my pastry as gourmet pastry. I like the recipes to be easy to follow but full of taste, playing with textures and melting points to bring a 3D tasting. For the finishing, I like to have realistic décors, to give the illusion of something else.
What is your favorite place to travel and why? Where do you want to take your career next?
I really love Asia! Specially Japan. I love the respect they have for everything, they have a great history and culture, and the handcraft is still very strong there, with so much knowledge! If you teach a Japanese chef something about pastry, you can be sure the next time you go it will be done exactly in same way, with no variations. I love what my business partner and I are doing, we try to develop our pastry and chocolate consulting, and to develop our sales on chocolate products in different countries. Our company is based in Belgium, we will continue our progression, always looking for new opportunities in different countries to build new partnerships.
Discover all the details of these signature creations by François Galtier in so good #28