When geometry is beautiful
The main foundations of architecture and geometry are a means to an end, creating beauty. The Ukrainian chef Dinara Kasko has found in pastry a field in which she can put the Voronoi diagram or biomimicry into practice. Keeping in mind that the final product not only has to be edible, but tasty as well, it involves balancing factors such as form, volume, composition, proportion, color, and texture. 'I'm trying to connect architecture, design, and patisserie. A beautiful cake as well as a beautiful building, needs preliminary design', she says.
In these pages, the chef and architect reveals the steps which make up her creative process and, exclusively for us, her most recent designs. When we started noticing a certain depletion in the sector when it comes to forms and figures, Kasko opens a new folder filled with beauty and originality, telling us that it has not all been done and that she has many more innovative ideas. 'I don't want to imitate others; I want to create something new'.
Who is Dinara Kasko? What did you do and what do you do now?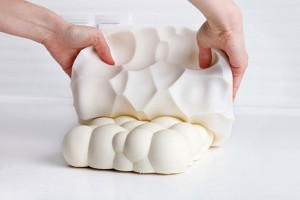 As for me, I'm a creative person. I have always been interested in art. So I went to the University of Architecture and Design and worked as an architect-designer and a 3D visualizer for several years. I also had a lot of experience in photography and just a few years ago finally discovered baking for myself. I studied patisserie at home in my small kitchen and attended courses with famous professional pastry chefs from time to time. I carry out some new experiment every single day and patisserie has become my biggest interest and my passion.
In your opinion, what is the relationship between patisserie and architecture?
In my case I'm trying to connect architecture, design and patisserie. A beautiful cake as well as a beautiful building needs preliminary design. It's necessary to work with the form, volume, composition, proportion, color and texture correctly.
The right combination of all these factors will let us create a well-balanced cake and a well-balanced building.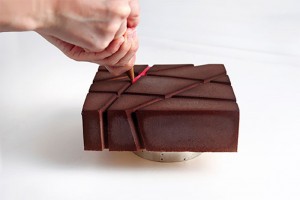 The advent of new technologies and computer programs creates the opportunity in architecture to create entirely new objects, which were impossible even a few decades ago. Since the early 90s, parametric architecture actively develops, with its entirely new approach to shaping, where the forms are built by algorithms.
New technologies are presented in different kinds of art; we can also implement new solutions in pâtisserie. Nowadays with the help of 3D modeling and 3D printing, pastry chefs are open to new interesting possibilities.
What is your creative process?
Each object's creation begins from design development. There are few stages: inspiration, shape, and my own style. At the beginning the irrational is born – the very idea, then through shaping, I rationalize my object, and in the last stage I assign my own style to the object, which eventually generates a particular concept.
When my future creation's form is complete, I begin to implement it. In terms of my own moulds, first of all I make them on my computer. Even in this stage I can create the whole scale, proportions, I can vary the color, texture, choose decorations.
The next step is to print the 3D master model on the printer and its post-processing. Finally we cast the silicone mold.
Presently I have started to work with the silicone molds producers – Silikomart liked some of my molds, and decided to put them into mass production. The Bubbles mold will be available for sale in September.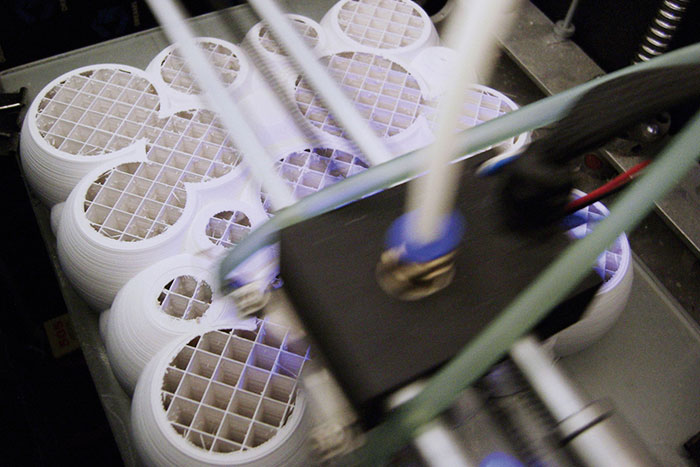 What are your sources of inspiration?
Sometimes the idea comes suddenly, but sometimes it is a long process. Inspiration can come from anywhere, modern architecture, art, stylistics; it can be an artist or even a natural object. There are a lot of ideas, we can transfer them to external appearance or put the idea inside.
Is it possible to transfer any shape from architecture to patisserie? Where are the limits?
I think at present it's impossible, but, maybe, in the future it will be a reality. Today, with the help of 3D modeling, you can create any shape, the imagination is endless. New building materials and technologies make it possible to create almost any idea in a building process. But in patisserie, first of all, we are limited by material properties. Moreover, the main factor is that the product must be eatable and tasty. Nevertheless we can always take something from other arts.
Tell us a bit more about the creations you present in so good.. magazine. What is the idea or the concept?
My present concept can be called "Geometry". The main elements are the geometric primitives: triangle, circle, and rectangle. My main colors are black, white and red. I like minimalism, ultimately this simplicity is beautiful.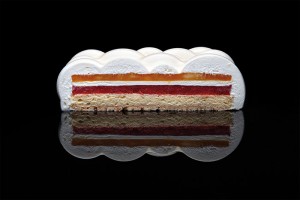 In my creations for so good.. magazine I've used geometric constructing principles such as triangulation, the Voronoi diagram, and biomimicry. Triangulation is a partitioning of a geometric object into tetrahedrons, the Voronoi diagram is a partitioning of a plane into cells based on a mathematical algorithm. Biomimicry is using the models, systems, and elements of nature, macro elements in general. It can be anything, fragmentation of expanding shells in a spiral, herb structure, or the form that bubbles make.
In general, element forming is one of the main factors for me as a designer and a pastry chef. I should also note that photography, frame composition, and products presentation also play an important role. This is a manifestation of me as an artist, making cakes and photographing them as objects of art. Why not? Tasty and beautiful, that's great.
Patisserie is not a job, it's just my hobby. Many of my creations are concepts; their implementation takes a lot of time and numerous attempts.
I have many unrealized ideas and a great desire to experiment. I don't want to imitate others; I want to create something new.
You will find these three creations at so good #16