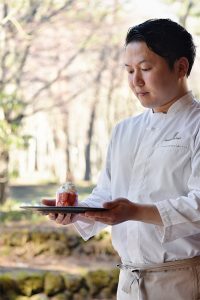 Text: Reiko Matsuno / Photos: Noriko Carlow
Breathing in fresh air and listening to streams and leaves of trees waving, you don't believe that it's just an hour away north from Tokyo on the bullet trains. Karuizawa is a well-known first-class villa area and a fine destination for many who wish to be in close contact with nature and relax in the weekend.
Hoshino Resorts Hotel Bleston Court sits in the wood looking up the trees where guests stay in the stylish cottages dotted in the woods. The Lounge in the main building that also houses the reception and a restaurant has a relaxing view of the garden. Here you can indulge in the beauty of nature and a Seasonal Dessert Course by Nobuhiro Koto, chef pâtissier of the hotel. Chefs in Japan should have acute sense of the season and bring it to every work or dish they create. Four seasons and twelve months are usual themes they consider for their creation, but the seasonal ingredients Koto uses often change as if there were more than 20 seasons in Karuizawa.
'It's my latest version of tarte au citron. Fortunately, we have many farmers in Nagano who enthusiastically grow fruits and vegetables that are still rare in Japan and Myer Lemon is one of those, which is grown in southern Nagano. I make two different types of cream with this lemon, taking advantage of its orange-like flavor and taste. Between the lemon creams is lemon soufflé made with fresh cheese of BOSQUESO, an artisan cheese shop. I use lemon hollowed out, instead of tart crust. I add rosemary and verbena to associate with lush forest in Karuizawa.'
Lemon, Lemon Verbena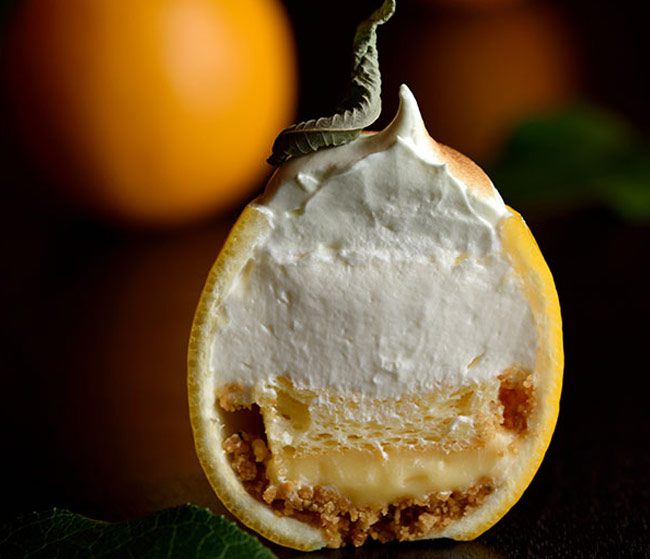 rosemary crumble
100 g butter
90 g granulated sugar
100 g flour
100 g almond powder
5 g rosemary
Put all the ingredients in Robot-coupe and blend until it resembles breadcrumb. Bake at 160℃ for about 12 minutes.
---
lemon crumble
90 g whole egg
160 g granulated sugar
6 g corn starch
125 g lemon juice
3 g gelatin
160 g butter
Combine the egg with the granulated sugar, corn starch and lemon juice. Cook thoroughly while bringing to a boil and remove from the heat. Add the gelatin hydrated with 15g water and add the butter when the temperature of the mixture decreases to 40ºC. Whisk with a hand-held blender.
---
lemon soufflé
80 g egg yolks
80 g granulated sugar
50 g corn starch
225 g yogurt
225 g fresh cheese "MIMAKI" from BOSQUESO
3 g lemon zest
120 g egg whites
60 g granulated sugar
Combine the egg yolk with the granulated sugar and corn starch. Add the yogurt, fresh cheese and lemon zest. Whisk the egg whites and 60g of granulated sugar until stiff peaks form. Combine the meringue with the cheese mixture. Pour into 4-cm Flexi Pan and bake at 190℃ for about 10 minutes.
---
lemon Chantilly
100 g lemon cream
300 g fresh cream
Combine the Lemon Cream with whipped fresh cream.
---
lemon verbena meringue
80 g water
15 g lemon verbena
200 g granulated sugar
120 g egg whites
Soak the lemon verbena in tepid water to infuse and strain. Add the granulated sugar and heat to 118℃. Beat the egg whites and add the syrup until stiff peaks form.
---
Decorations
Cut the upper part of lemons and remove the flesh to make lemon 'cups'.
Put some crumble at the bottom of the lemon and pipe the Lemon Cream.
Place the Lemon Soufflé and pipe the Lemon Cream and Lemon Chanty.
Top with the meringue and brown it with a gas burner.
Arrange leaves of lemon verbena.
---
You will also find this two recipes in so good #18