His personal way to pastry was more difficult than for others, since he did not get to it led by an early vocation, in spite of the fact that his parents ran a pastry shop in their town in Southern France. Not only did not Jerome Landrieu feel attracted by that profession but he was even reluctant to it. Nevertheless, he finally decided to give it a chance and found out a wonderful world, hidden to his eyes until then, a world ruled by passion. Nowadays he directs the Barry Callebaut's Chocolate Academy in Chicago, and feels "completely humbled by chocolate" while constantly learning and trying to improve day by day.
Harmony
pate semi sablee
120 g butter 83%
2 g sea salt
90 g  powdered sugar
30 g  almond flour
50 g  whole eggs
60 g  all purpose flour #1
175 g  all purpose flour #2
Mix together butter, salt, powdered sugar and almond flour in Robot Coupe. Add eggs and flour #1. Mix until just incorporated.
Add flour #2. Mix until just incorporated. Chill dough at least 1 hour. Roll to 3 mm thickness. Form in desired form. Freeze.
Bake at 160C/320F until dark golden brown. Allow to cool and set aside.
---
gelatin mass
Hydrate gelatin in cold water. Allow to set in cooler.
Melt gelatin. Allow to set and cut to scale as needed.
---
white chocolate lemon ganache
158 g cream 35%
158 g milk 3.5%
1.5 g lemon zest
315 g Cacao Barry Blanc Satin 29% white chocolate
63 g Cacao Barry Mycryo 100%
57 g fresh lemon juice
Bring cream, milk and lemon zest to 70C/158F. Pour infusion over white chocolate and Mycryo. Mix to emulsion with immersion blender. Add lemon juice. Set aside until ready for assembly.
---
mint meringue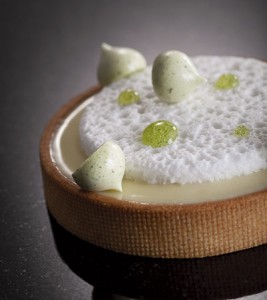 90 g fresh mint leaves, washed
As needed ice water #1
450 g ice water #2
24 g egg white powder
65 g sugar
40 g fresh egg whites
2 g mint concentrate
Blanch mint and shock in ice water #1. Puree mint and ice water #2 in blender. Strain mint water. Scale 350g of mint water for the mint gel and set aside for until needed. Scale120g of mint water for meringue. Add egg white powder and let hydrate for 30 min.
Add egg whites to mixture. Whip and add sugar in stages.
When peaks form, add concentrate. Whip to full volume.
Pipe meringue and place in dehydrator.
When dried, reserve for assembly.
---
lemon dacquoise
lemon frozen marshmallow
mint gel
These recipes are in so good #6.

---
Method of assembly
Place dacquoise on bottom of tart shell.
Fill with lemon ganache.
Place frozen marshmallow on ganache.
Decorate with mint gel and mint meringue.