Pastry Chef's Boutique, which offers equipment, tools and products for professional pastry chefs, has launched Intuition Collection, an exclusive high-quality colored cocoa butter line developed in collaboration with Jerome Landrieu.
The avant-garde range consists of a wide palette of 26 refined and nuanced colors that convey the hues of natural flavors, from tones that express classic flavors such as pistachios and hazelnuts, to others that reflect more gourmet flavors such as Spanish saffron, Genoa basil, and Bella olive . These cocoa butters, designed for airbrushing or painting on molds, chocolate or fondant, will beautify the creations of the most demanding chocolatiers. In addition, since they do not contain titanium, they offer optimal transparency of colors and a more natural chocolate finish.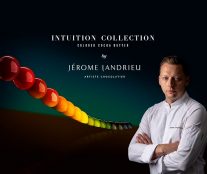 In the opinion of the renowned French chef, "the experience of a chocolate starts from the perception of its color", so "as a chef, I always strive to conceive creations which display flavorful colors: colors that evoke accurately the flavor within the chocolate or the pastry… In order to get such refined colors, I used to mix different colored cocoa butters or powders to achieve the desired shade. It was a tedious and time-consuming process, "he explains. A process that is lightened with Intuition Collection that "will beautify your creation by providing impressive color results instantly allowing you to focus more on the other chocolate aspects: textures, taste, and help you reach the ultimate goal which is in my opinion, pure emotion. "
Pastry Chef's Boutique and Landrieu share a common culture of excellence in French Pastry Art. United by creativity, a passion for artistic beauty, and a commitment to preserving savoir-faire, they now present this incredible line.