©Bernhard Winkelmann
Ritz Paris Le Comptoir opens its doors on June 7 at 38 rue Cambon. A gourmet boutique with which the Ritz Paris hotel wants to give everyone the opportunity to taste the sweets of its pastry chef, François Perret. "With the series The Chef in a Truck airing on Netflix, I realized that one could combine excellence and simplicity. The opening of this shop will allow Parisians to take my cakes home and make part of the Ritz Paris legend their own. I like the notion of spontaneity and sharing that we find in take away sales," says the chef.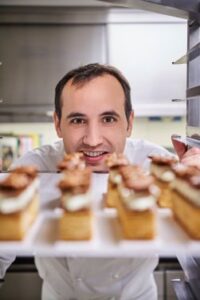 Visitors to this new location will be able to purchase not only the Ritz's iconic cakes, but also exclusive and original creations. One of the firsts will be pastry drinks that revisit three signature Perret desserts: l'Entremets Madeleine, the Barquette caramel, and l'Entremets marbré. Each recipe combines the smoothness of fresh milk, a whipped cream with the texture of a cloud, and the intense touch of different flavored caramels, as well as toppings. In terms of viennoiserie, the chef has longitudinally redesigned the silhouette of croissants, pains au chocolat, and sandwiches to facilitate tasting. There will also be the iconic artisan Madeleines, available in seven flavors (natural, chocolat, caramel, framboise, chestnut honey, blackberry, and passionfruit) and presented in boxes illustrated with the effigies of Auguste Escoffier, César Ritz, and François Perret. In addition, you can also take desserts from the Ritz's Bar Vendôme, such as the Marbré cake or the wild strawberry cheesecake.

On an aesthetic level, Le Comptoir is a contemporary, bright, and immaculate space that mixes textures and materials in white and beige tones, based on the atmosphere and codes of the prestigious hotel. Overlooking the space, a giant Bohemian crystal ceiling light represents the curved silhouette of a madeleine, a signature of the place. Composed of 60 pieces in blown crystal, it gives the ceiling amber and translucent reflections inspired by the chestnut honey that the Chef adores. Visible from the street, a series of brushed brass alcoves recalls the emblematic facade of the Ritz Paris.