"The Art of French Pastry" written by Chef Jacquy Pfeiffer with Martha Rose Shulman won the James Beard Foundation Book Award 2014 in the Baking and Dessert category. Each of them received an engraved medallion, considered the highest honor for food and beverage professionals in North America.
About the book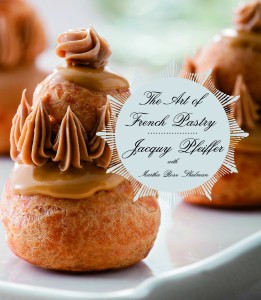 It's no secret. To achieve the perfect éclair or delicate buttery croissant requires a deep knowledge of the fundamentals of pastry cooking. And this is precisely the subject matter of the latest book of Jacquy Pfeiffer, co-founder of the prestigious French Pastry School in Chicago.
Under the title of "The art of French pastry", chef Pfeiffer, accompanied by Martha Rose Shulman, has produced a book that focuses on the basic concepts needed to understand the science of the ingredients used, the way they interact with each other, and how to finally transform them into delicious pieces of refined pastries.
Jacquy Pfeiffer comes from a long tradition of master pastry chefs and has worked with these recipes ever since she was a child, when she helped her father in his bakery in Alsace. The book is also filled with photographs and illustrations of the recipes, as well as additional information not only on the necessary ingredients but also the tools and equipment that are required for processing. In all, a masterclass delivered by one of the most influential chefs in modern pâtisserie in North America.