Antonio Bachour continues to launch gastronomic concepts. On March 1, he opened the doors of Tablé by Bachour in Miami, a restaurant with the soul of a classic Parisian brasserie but with a modern twist. "Tablé is a restaurant in tune with this time and this place. Classic techniques and French flavors and textures have been part of my career and helped build my reputation. Tablé is an evolution of that and should bring something really special to Miami, which is now a serious food city in its own right."

With nearly 5,500 m2 of indoor/outdoor cafe, dining, and bar space, it is his most ambitious project. Tablé departs from the chef's other Florida concepts and reflects the evolution of his talent. Here, Bachour goes beyond the bakery/café model with a luxurious establishment, befitting the district where it is located.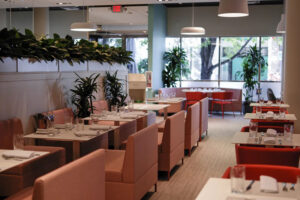 Located at 180 NE 40th Street, in the former Prada showroom, the space has been renovated by designer Jorge Gonzalez in collaboration with Vertical Design Studio. The result is an establishment with modern and minimalist decor with exuberant vegetation, with capacity for 69 people inside and 42 outside. Upon entering the restaurant, diners will also be able to see everything Bachour does behind the scenes.

The chef is very excited about the opening, "I have had the idea for this restaurant for years and it is a dream to make it come true in the Miami Design District. Classic French technique has been the foundation of my style and this restaurant is an extension of that. What it won't be is an improved version of what I'm known for. Tablé will have its own identity with a full bar offering creative and classic spirits tastings, a carefully curated wine program, beautifully presented yet soulful modern food and, naturally, the desserts for which we are known."

Gastronomically speaking, for breakfast we find proposals such as a croissant sandwich with smoked trout, benedictine Berkshire ham and scrambled eggs on Challah toast with bacon jam and black truffle. The food includes beef tartare a la Maison, pastas, fresh fish, and a wide variety of sandwiches. And for dinner, dishes such as caviar and potatoes, classic l'escargot or torchon de foie gras.