Vicky Lau, of the two Michelin-starred TATE Dining Room and Mora, continues her journey into the world of soy with the brand new introduction of Ān, a new homemade organic soy-based collection of gourmet and lifestyle products (traditional tofu mold, repairing soap, scented candles, among others).
"Ever since I discovered the joys of soy, there was no turning back. I've been on an endless pursuit of finding the best ways to showcase soy in its myriad forms, from fine dining and pastries to even everyday products," says Lau. "Ān is a continuation of our work at MORA, which is first and foremost a study of soy."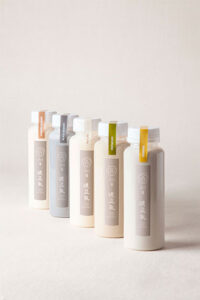 Lau, one of the protagonists of so good.. #26, fell in love with soy after Tate's "Ode to Tofu" single-ingredient lunch menu. This was her first foray into applying classical French techniques to soy products. In ĀN, the chef combines the thousands-years-old Chinese soy milk tradition with Japanese soy milk-producing technology, offering new and contemporary approaches to the way this legume is viewed and consumed.
Among ĀN's exclusive products we find Extra Thick Soy Milk, available in five different flavors (Nature made with trehalose, Pistachio, Chinese Almond, Banana, and Black sesame & coconut), and Soy Cream Doughnut, a slow-proofed fried brioche dough with Chinese almond and soy-milk crème mousseline filling, rolled with roasted soy flour and sugar. Other delicious soy-based products are Soy Milk Flan Parisien, a handmade, flaky puff pastry with soy milk crème pâtissier filling; Chocolate Chip Cookie, and Soy Sauce Caramel Soy Milk Pudding.