If last year's event surpassed all expectations by attracting 144,803 professional visitors, which was 18% more than in 2012, in 2014 the Sigep expo (Rimini, 18th – 22nd January) ended with the grand total of 173,904 professional visitors (ISO 25.639). These figures are extremely positive given that most of the world's expos are experiencing a lull in the number of vistitors going through their doors. There were almost 30,000 more visitors than in last year's Sigep, a 20.1% increase.
Sigep 2014 also continued its unstoppable march towards internationalisation, registering an increase of 32% in the number of foreign visitors. As such, it has again been made clear that its capacity to attract large audiences is without precedent and reaffirms the crucial role it plays as a platform for showcasing the Italian ice cream industry.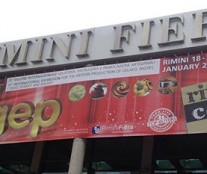 The World Cup of Ice Cream, won by France in the sixth year of the competition, and The Pastry Queen, which came after it, are the two main media attractions. However, this most international of gatherings in the world of ice cream also continues to generate content of great interest in all zones, from the demonstrations to the seminars to the master classes. But the most surprising aspect is that
because it is a yearly event, there is an opportunity to completely reweave the fabric of the ice cream industry with a new ingredients, machinery, fixtures and fittings. For example, a larger area was dedicated to pastry and bakery, the world of coffee had an increased presence and for the first time, the restaurant and catering industries were included (RHEX).