On 14, 15 and 16 October, The Chocolate Show returns to Olympia London and premiering a competition: Chocolate Dessert of the Year, the first of its kind to grace the UK food scene. A competition where pastry chefs and chocolatiers will show their skills creating éclairs, mousses, cakes, puddings, among others before a prestigious line up of high profile judges including the journalist Xanthe Clay (The Telegraph); Rebecca Woollard, Delicious Food Editor; master chocolatier Paul A Young; Chantal Coady, founder of Rococo Chocolates; Sara Jayne Stanes OBE, Chief Executive of The Royal Academy of Culinary Arts; the reporter Frankie McCoy (the Evening Standard); Cherish Finden, judge on Great British Bake Off Crème de la Crème, and Martin Chiffers, UK Pastry Team President.
The grand finale of the Fifth International Chocolate Awards will be another event that will take place in the Salon. On the 14th the best of the plain/origin and flavoured bars, filled chocolates/bonbons and spreads will be determined from this year's winners from around the world, previously selected in various national semifinals.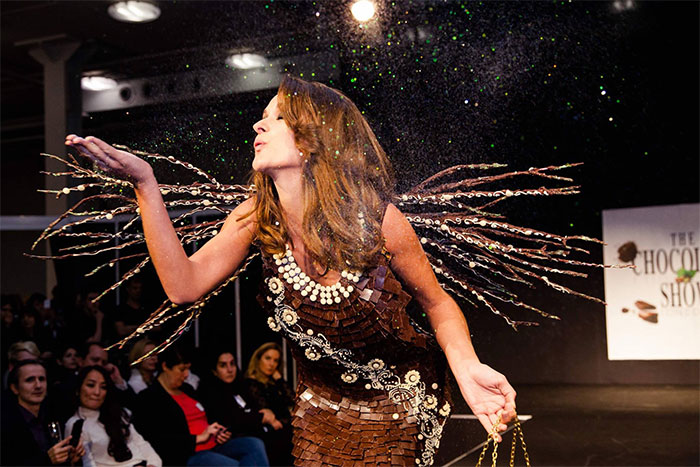 Glamor will be brought in the world famous Chocolate Fashion Show with stunning couture outfits made and inspired by chocolate will be presented during the Gala Evening on 13th October and every day at 5:00 pm. Carmen Rueda, the head pastry chef from the Fat Duck, and Mark Tilling, winner of BBO Créme de la Créme are some of the highlights among the chocolatiers who will be participating.
In its fourth edition, the Salon will once again celebrate chocolate in all its forms, with 100 exhibitors showcasing bars, truffles, patisserie, cakes, desserts, baking, sculptures and much more.