The great chocolate adventure is the theme of the 23rd edition of the Salon du Chocolat Paris which will take place from 28 October to 1 November.
More than 500 participants, more than 200 international chefs, 20,000 m2 of exhibition space, 60 represented countries, an unprecedented program for professionals and the public, a wide repertoire of chocolates from all five continents … will meet at the French fair which this year will adapt the BtoB area to facilitate networking.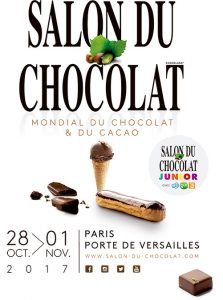 Attendees will have the opportunity to discover the major players in the chocolate industry and the leading French and foreign artisans who will share their passion and manufacturing secrets, their new products, and the latest trends worldwide. In addition, they will be able to enter and discover the lands of cocoa by the hand of the main producing countries and of Bean to Bar specialists.
In 2017 there will be no shortage of XXL chocolate sculptures. On the one hand, Richard Orlinski is working with pastry chef Yann Couvreur on a monumental surprise presentation. On the other hand, Jean-Luc Decluzeau for Leonidas will display the fascinating world of Asterix on a giant scale.
As usual there are the regulars of the fair: The Chocolate Fashion Show, the Pastry Show where world chefs reveal their recipes, the Chocosphere and its public lectures, and the gourmet workshops. At the level of competitions, the highlight is the 2017 International Cocoa Awards, which reward excellence in the production regions and the work of the planters.