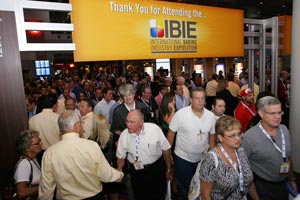 If the 2010 edition showed an impressive increase in the attendance figures (40% more), the Baking Expo (IBIE) 2013 does not seem to slow down and promises to break another record. This worldwide acclaimed exposition, aimed at all the sectors related to the baking industry, will take place next October 6th to 9th at the Convention Center in Las Vegas.
Without any doubt, innovation and the latest technologies will be starring this year's 152,400 sq-m exhibition, which will gather 800 exhibitors representing all about the production line, distribution and industries related to the grain-based market.
Behind this triennial trade event, we find the American Bakers Association (ABA) and the Baking Industry Suppliers Association (BEMA), with which all sorts of companies collaborate, as well as training centers and professionally-related associations from all over America. Thanks to such a powerful alliance, it will be possible to enjoy a great number of contests, such as America's Best Raising Bread Contest, or B.E.S.T in Baking Program which recognizes those companies building a way towards sustainability and respect for the environment, the Great American Pie Festival, and the RBA's 13th Annual Pillsbury Bakers' Plus Creative Decorating Competition.
Other spaces worth visiting are related to the Amoretti Demo Theater training program, the Education Program and its wide range of conferences, workshops and demonstrations, the Innovation Showcase, and the PMQ Pizza Village, among many others.