Seven Italian pastry chefs have taken on the enormous responsibility of proving that the best panettone in the world is the one made in Italy. This is one of the interpretations that can be made, and that in fact are being made about the Panettone World Cup. In the birthplace of this wonderful sweet, there are those concerned about the possibility that this competition, whose final will take place in Lugano next November, crowns a Spanish, Swiss or French pastry chef, and therefore the best panettone not being Italian.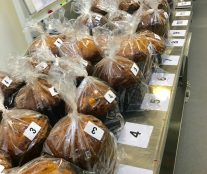 Another way to see it, braver and more modern without a doubt, is that this World Cup is an attractive challenge for everyone, Italians and non-Italians, and in the end it is an international and perfectly qualified jury who determines which panettone is the best. Additionionally, a competition is a competition, and not all pastry chefs and all products of a country are evaluated, but only those that participate. And of course, the main objective of this project, initially promoted by Giuseppe Pifaretti and Jose Romero, is none other than to promote a Milanese product, which has already crossed borders, but whose correct production must be preserved, with natural sourdough and with a very rigorous process. In short, the objective is to shield good panettone made by professional craftsmen against other more questionable products.

Beyond comments and rumors, and despite other initiatives in the form of championships that are emerging, the competition is firmly on its way. In Pistoia, near Florence, the brand-new facilities of the company Gustar, a large distributor of pastry, bakery, and ice cream products in Tuscany, were the scene of the recent Italian qualifying event. The jury, with professionals of recognized prestige such as Beniamino Razzoli, Patrice Bernard, Pierpaolo Magni, Gianbattista Montanari, François Stahl, Stefano Donati, Francois Wolfisberg, Franco Antoniazzi, and Angelo Musolino, and with the participation of the writer of these lines, tried a total of 45 panettones, from pastry shops from all around Italy. In the end, Maximo Ferrante, Bruno Andreoletti, Turdo Nicola, Ristuccia Giovanni, Andrea Tedeschi, Lunardi Massimillano, and Peruzzi Massimo obtained the classification for the competition.