Next January 27th and 28th, during the SIRHA International Trade Fair (previously known as 'Les Métier de Bouche') in Lyon, the 13th edition of the World Pastry Cup will take place. Ever since it was first inaugurated in 1989, promoted by its current president Gabriel Paillasson, this event has done nothing but gain prestige and a spectacular nature.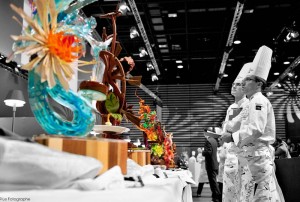 Along its next edition, 1500 people will have the privilege to witness how a total of 22 national teams – made up of a pastry chef, a chocolatier and a glacier – compete for reaching the highest glory in the probably best space for such culinary events in the world – the 8,000 sq meters pavilion Paul Bocuse Hall.
At the podium, not only will the prestige of standing on it await the winners, but also a €21,000 prize for the gold medalist, €12,000 for the silver, and €6,000 for the bronze. This year's edition has already been on the go for a while, as proved by the fact that over 50 national qualification competitions and four continental ones (Europe, Asia, Africa and America) have taken place. There are two national teams competing for the first time – Egypt and Ivory Coast. Three teams have been selected through the 'Wild Cards': the aforementioned Ivory Coast, Mexico and China.
Follow the link provided to view a pdf file with all the information about the showpieces all the contestants have to make, the scoring system, and the very latest news, besides a complete list with all the participating countries and their members.
You can also vote for your favorite team poster clicking on the following link: https://www.cmpatisserie-lyon.com/the-best-poster-prize